Last week we had an extra member of staff in the form of a work experience student. Harley is a year 10 pupil at a local secondary school and came to us through one of our clients, his mum! We thought it would be interesting to find out what he thought of Stop and Stare, the work we do and the industry as a whole. Here's his Q&A!
Work experience at a farnham marketing agency!
Tell us a bit about yourself, what subjects are you interested in at school, what do you get up to in your spare time?
Well first things first my name is Harley as you have been told, my favourite subjects are English, P.E. and I.T because they are fun and are my strengths. In my spare time I am either watching TV, on my computer or on my trampoline.
So, why did you want to do work experience at Stop and Stare (it wasn't just because of your mum, was it?):
The first time I was told that I was doing work experience I wasn't quite sure what I wanted to do but I knew I wanted to do something with computers. Then I heard about the opportunity with Stop and Stare Marketing and it sounded fun. My mum said it had things to do with computers and website designing and I knew I wanted to do this.
What's the week been like? How does it compare to school?
This week has been amazing I am speechless (in a good way) and if I had the choice to do it again I would definitely choose Stop and Stare. It is 100% better than school even though I finish later here – I definitely prefer this. At school, you can't even go to the toilet in lessons.
What preconceived ideas did you have about local marketing agencies, and how did we live up?
I thought everyone was going to be in suits and things like that. I thought we could only go to lunch at a certain time and be back within an hour. But no, they weren't wearing suits, we didn't have to go to lunch at a certain time. I thought the work wouldn't be as good as I thought it would have. (My English teacher told me that all I was going to be doing was making tea and coffee.)
How have you found the work? Fun? Interesting? Surprising?
It was good and fun. On Monday I was browsing for a new template for their new website and I found one and everyone here liked it and that made my day. It was very interesting this week.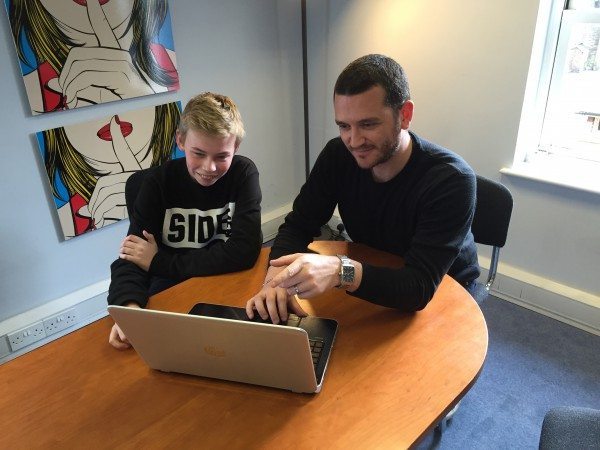 Can you give readers a snapshot of your time at Stop and Stare? What kind of things have you been doing?
On Monday I found the template for Stop and Stare's new website and news for what goes on the site,
Tuesday I was finding and making up posts and tweets for Am-Tech Tools and NHB Recruitment Solutions and lots more,
Wednesday I had to find a new website template for Highpoint Recruitment and more content to put on it also where the website would sit when they are against other websites layouts,
Thursday I was experiencing what a meeting was like and continuing on with the Highpoint website,
Friday I made a spreadsheet for Jamie (owner of Stop and Stare) to see how the other companies have done with their websites and their Facebook and Twitter, also answered these questions near the end of the day!
We're hoping that you might have learnt something new…have you?
Yes, I have learnt a lot, I have learnt how to find and use a website template and most importantly work as a team!!
What do you think of the Stop and Stare team, who's your favourite?
All of them because whenever I needed help with something or didn't understand anything each one of them helped.
What's been the highlight of your week?
Meeting the team and being welcomed, also finding the website template because everyone liked it.
Having spent a week in a marketing agency is this something you might like to do as a job in the future?
Yes definitely it's one of my strengths like I.T, because they mix together and it's fun.
Any particularly area that you are especially interested in?
Taking a look at other companies' websites to see how they have approached their design.
Finally, what are your plans when you finish your GCSEs next year?
I would like to try and get a job like this because it is interesting and it's what I like to do.
It's been really fun having Harley in the agency for a week and interesting to find out what he thinks of what we get up to. Watch this space we might have found the next hot web designer!