Founded in 2013, CF is a boutique consulting and data company offering a suite of healthcare services and products to health systems and life sciences organisations.
Amongst many other achievements, CF supported the NHS in its response to the COVID-19 pandemic as the first wave struck London and was subsequently involved in the vaccine rollout and the recovery of services. CF is especially valued for the benefits from the Vaccines Equality Tool (VET) they developed and deployed.
CF has also won four Health Service Journal awards and two Management Consultancies Association awards and was recently recognised by the Financial Times as one of the best consulting firms in healthcare and life sciences.
We first started working with CF in 2019 when they got in contact with us through our website…
Formerly known as 'Carnall Farrar', CF was looking to rebrand. They're a great company and great people who are experts and award-winning in their field — but the website and brand didn't reflect this.
As such, they were looking to produce a new website with a great UX to showcase their breadth of content — from insights and case studies to policy snapshots and reports — in a more visual and attractive way.
This website needed to be easy to update so that CF's internal staff could continue adding to it without compromising the UX or look of the site.
The timeline for completion was five months from the initial enquiry to the site going live.
We kicked off the project with a DISCOVER phase, where we interviewed key stakeholders to find out what they wanted to get out of the website rebrand.
Then, for the CREATE phase, we put together wireframes and page designs and rewrote the full website copy — keeping in mind the UX and site navigation. We also set up an internal photoshoot, which was vital for gathering a range of original imagery for the site.
The final stage — DELIVER — involved building the site with the approved content and design. As part of the build, we placed rich content, such as case studies, behind a log-in wall to help build a pipeline of new business prospects and set up the site's technical SEO.
One of the key challenges of this project was the sheer volume of existing content CF had and how we could retain this content whilst ensuring ease of navigation. To get around this, we added in search functionality — developing some really neat filtering with multiple category selections for the insights section — and folded in a process for database management.
The new website was well received internally and following active marketing to drive traffic to the site, sessions increased by over 67% from the previous month during the first month of the website being live.
CF was also keen to see how our marketing packages could assist them, and they are now on a monthly retainer that includes social media content and posting, written articles and email marketing.
This combination of marketing activity has seen CF's LinkedIn and Twitter following grow by 322 and 44 people, respectively, from April to May 2022. The first email newsletter we sent out also received an impressive open rate of 34% (far higher than the average open rate of 21.5% for all industries). Written articles have been receiving up to 456 page views in a single month.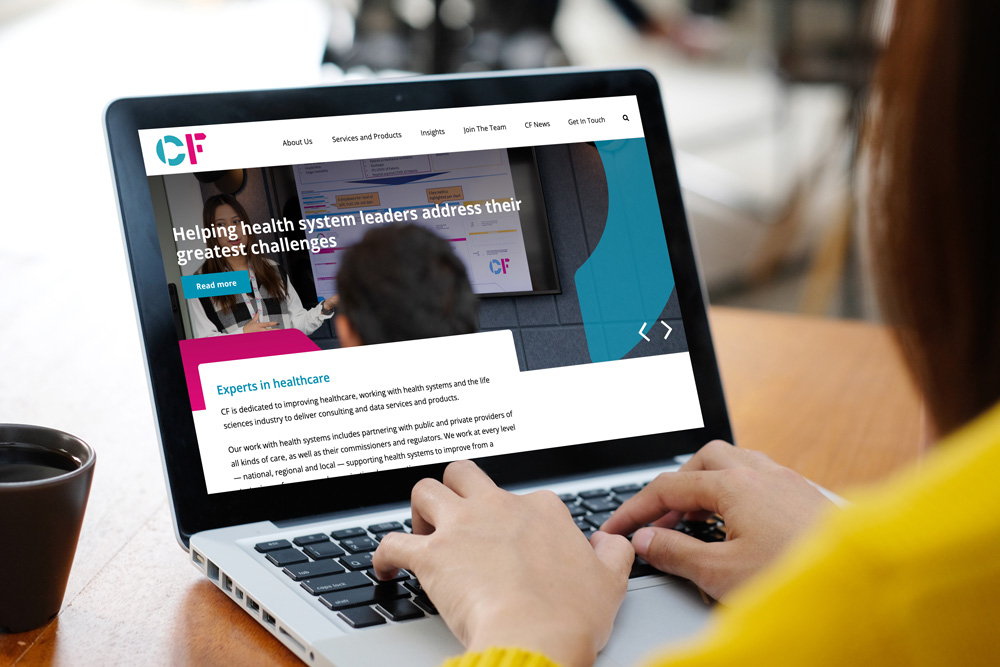 Our previous website was dated, not terribly visually appealing and difficult to navigate thanks to the sheer volume of content we had accumulated over the years. Hyped has completely decluttered and transformed the site, making it better to look at and use. The team at Hyped is informative and on the ball, and they have been a great help in steering the direction of our marketing — particularly with guidance on social media and securing PR coverage in noteworthy publications, including The Journal of mHealth.
Seen something that takes your fancy? We'd be happy to show you our work in more detail and chat through the process of how we got there.
Just drop us an email at hi@hypedmarketing.co.uk!