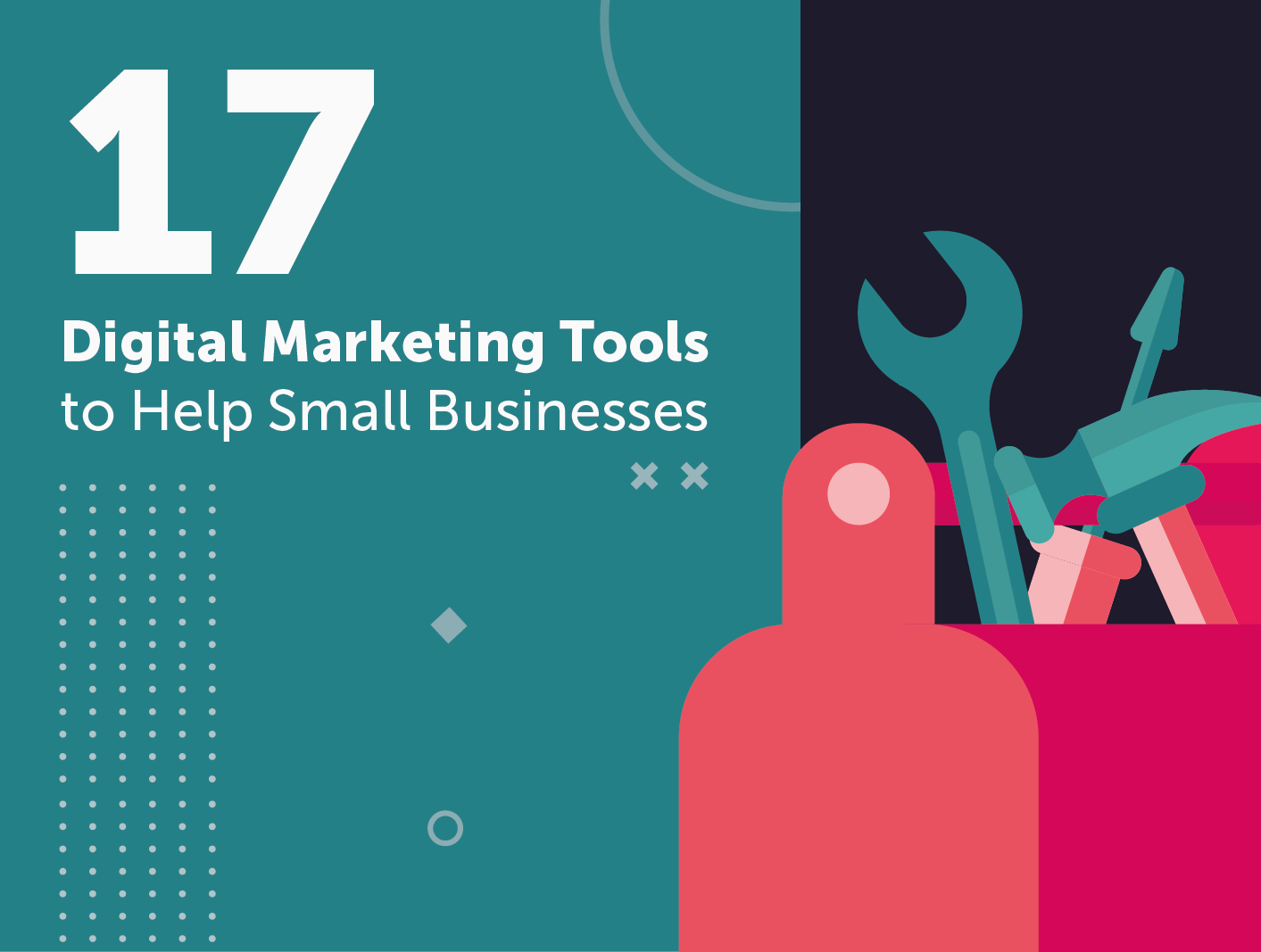 Gone are the days when a multi-million-pound marketing budget was necessary to get ahead of your competitors. More and more small businesses are realising the benefits of digital marketing and investing their resources in it (in fact, only one in 10 SMEs don't invest in any kind of marketing these days!).  
Now, business owners have a plethora of marketing methods right at their fingertips — but digital marketing is a big world, and for many SME owners just starting out, it can be a bit of an intimidating venture.  
Sound familiar? Don't panic!  
Digital marketing tools of today can do a lot of the hard work for you. With the right tools in your arsenal, you can get a helping hand on your everyday marketing tasks and even automate some of them, like scheduling your social posts. 
Wondering where to start? We've compiled a list of marketing tools that make digital marketing a little easier for SMEs… 
Content inspiration
Stumped about what to write for your Instagram captions? Or what to include in your monthly newsletter? 
Introducing: artificial intelligence (AI) in marketing.  
Artificial intelligence and automation apps can generate ideas for your content by analysing your target audience's interests and suggesting relevant topics. Here are a few to check out… 
AnswerThePublic is a nifty listening tool that sniffs out autocomplete data from search engines like Google and then quickly sifts through every useful phrase and question people are asking around your keyword.  
If you're looking for content ideas, this is great for true consumer insight and understanding what questions your audience wants answers to. 
From content discovery and keyword research to monitoring content performance and API automation, BuzzSumo is a fab launchpad for your brand's content creation when you're stuck in a rut with writer's block. 
With whizzy AI technology, Latte learns about you, your industry and target audience before creating content specifically for you. Simply send over your initial suggestion (whether that's an image you want to use, a hashtag or a basic topic) and Latte will guide you through the creation process from start to finish. 
Writing and editing
 So, you've written your content. Nice. Now the important part is making sure it's in tip-top shape… 
It can be tricky to keep on top of typos and grammatical errors when reading back over your work. Why not try a handy tool that can help you proofread and edit your content? 
Grammarly is a great AI tool to use across your desktop — it makes suggestions and edits whilst you write and moves with you as you switch between apps, social media, documents, messages, emails… 
Plus, you can turn your brand voice into a profile, so you're tone of voice and style stays consistent throughout all your copy. 
Want to make sure your content is original? Tools like QuillBot use AI to check your writing against the web for plagiarism and create citations so you can easily hyperlink to the source of quotes or facts you find online. It's also great for picking up on those pesky typos! 
Digital marketing is all about grabbing attention — so your writing should be as concise and simple to read as possible to reel your audience in.  
The Hemingway Editor App is an app that highlights and corrects grammar, fluency and sentence structure to help your writing read and look better.  
Accessible content
You want to ensure as many people can enjoy your content as possible, right? Luckily, there are tons of tools out there that can make that possible. Here are just a couple… 
You'd be surprised how many people watch videos without sound these days (69% in public places and 25% in private places). This video editor uses tools to simplify the process of creating captions. AI auto-generates the video transcript and animates the subtitles with a single click. Choose from various trending social media text styles or customise them to stay on-brand with your own colours and fonts. 
Tota11y
Tot11y helps you improve accessibility in your website's design, content and structure. To make your business as accessible as possible, you can play with options for headings, colour contrast, link text, labels and alt-text — all in one place! 
Social media planning and scheduling
Now you've got fresh, creative content that's superbly written and accessible for your audience — all that's left to do is post it! 
We know managing your social media accounts and posting regularly can be time-consuming, so it's always a good idea to plan your content and make sure they go live consistently for the best reach. And there are tools for that (of course)… 
Use Planoly to visually plan your content, draft captions, use trending music, add hashtags and collaborate with team members in one app. Want to repurpose your content for your other social media channels? It just takes one click! 
Running content across multiple social media accounts? Hootsuite is a good one for planning out social media posts and scheduling them; it even tells you when to post on social media to get the highest engagement. Your content will go out consistently — even if you're out of the office.  
If you want to know how your posts are performing and how you can improve your reach, use SocialBee to inform your social media strategy. Track your page growth, audience demographics and post analytics for each social channel, learning where there's room for improvement as you go.  
Image design and editing
Snappy text can help set your brand apart from the competition — but the visual appeal is the first thing users see when they come across your social media channels or find your website. 
Need to whip up a banner for a landing page or email, craft an Instagram post or build an infographic? Here are some tools that can make the task a little easier… 
If the thought of using Photoshop or InDesign terrifies you, that's okay! No one expects you to be a graphic design professional — especially Canva. It's a solid, easy-to-use app packed with features that make designing visuals simple.  
Pixlr is a photo editing and design tool that uses AI power to edit photos and create stunning designs in your browser, phone or desktop. Start from scratch, or use the templates to design images and videos for your digital marketing. 
Email marketing
Email marketing is a simple, direct and effective way of connecting with your audience (and is very cost-effective). So, the question isn't really if you should use email marketing but how to use email marketing — and we have some convenient tools to give you a helping hand! 
You want your audience to open your emails, right? The key is to design eye-catching emails tailored to your audience! Dotdigital is great for its intuitive drag-and-drop functionality that makes it simple to personalise and test every message. 
HubSpot, probably best known for its marketing automation platform, recently launched a free email marketing tool that can support many small businesses' transactional email needs. 
An easy-to-use, drag-and-drop visual editor, HubSpot email marketing also comes with ready-made templates to get you started — and its integration with other HubSpot tools keeps everything easy-peasy (and in one place!). 
Search engine optimisation
People do detailed searches these days and want answers as quickly as possible. The more specific you can be with your content and titles, the more likely it will be to rank above competitor content. 
 Mastering SEO optimisation can be hard, especially if you're just starting. Fortunately, finding SEO tools is easy… 
You have fun, engaging content, but no one can see it because it's not optimised — Yoast SEO is a fab solution! It's a WordPress plugin that improves your website's rankings on Google by helping you optimise your site's content and keywords.  
Semrush is an all-in-one tool suite for improving online visibility and discovering marketing insights. From keyword and competitor research to SEO audits and reporting, using Semrush can hike your rankings and spread the word about your business! 
Your business deserves the best
For small businesses, AI and automation tools are handy assistants when you're learning the ropes.  
There are loads of tools out there to improve efficiency by allowing you to automate more routine processes. But digital marketing tools aren't a magic wand that can be waved to miraculously complete all your sales and marketing tricks. There's a little more to it than that… 
Keep in mind that a lot of these tools will still need some input from you to work effectively. So, although they do some legwork, you'll still have to dedicate a fair amount of time to learning how to use them and making them work to your advantage. 
And although a lot of the tools out there have free trials or versions, you'll be expecting pretty basic software without upgrading to the premium versions (which can get expensive quite quickly if you want a variation of tools and applications).  
So, if you're short on time and looking for a more cost-effective approach to digital marketing, a dedicated marketing agency could be the answer…   
On that note, check out our monthly digital marketing packages. Our in-house designers, copywriters, web developers and account handlers pool all their marketing talents together to deliver a little bit of everything through one team, ensuring all bases are covered so you can spend your time focusing on your business.