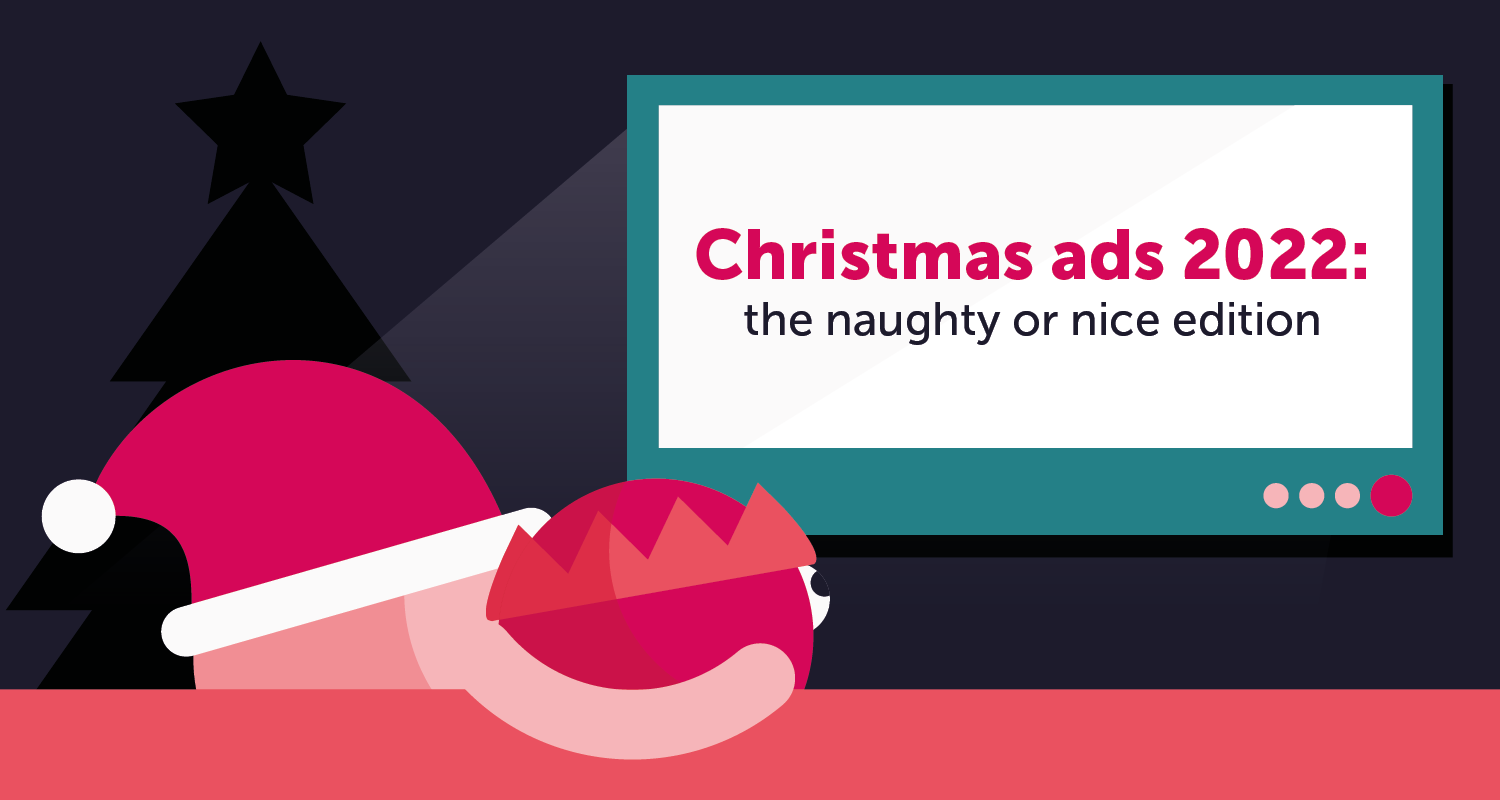 It's that time again: the great big Christmas ads showdown: the naughty or nice edition!
So, let's see which ones made what list for us this year…
Naughty
There are lots of 'no-goes' when it comes to Christmas ads, but the things that really get on our wick include:
Faux sadness (we want the real deal only, please).
Overwhelming product focus (subtly does it now).
Lacking authenticity (say it like you mean it).
So, which ads didn't hit the mark for us this year?
M&S
There was arguably more product placement in last year's advert with Percy the Pig, but it all just felt a little forced this year. Although it did make us hungry, so you could say it's done its job.
But the clincher for us was snubbing Percy — bring him back!
McDonald's
This advert is begging for you to cry, but we're withholding tears on principle. Call us cynical, but it just feels a little 'off' when the world's largest fast-food chain tries to make out that all you need to be happy is family.
(Oh, and don't forget a trip to McDonald's, of course…)
Tesco
Name three words that should never be used in a sentence together: political Christmas ad. Now name a word that should never be used in a Christmas ad: referendum.
Do we really need a clumsy reminder that there's a 'joy shortage'? Claiming to 'solve all the things that matter' also seems a bit rich coming from a supermarket whose CEO pocketed a £3.2 million Christmas bonus last year — just saying.
Nice
Then there are the nice things — the ad elements that make you go all warm and fuzzy inside. For us, that's:
Great storytelling (whether we're laughing or crying, make us feel something!).
A recurring character (we've had enough change over the last couple of years).
Nostalgia (take us back to a simpler time). 
These are the ads that made the cut…
Aldi
Ironic, given the naughty 'snowman's nose' joke, but Aldi's 2022 ad has definitely earnt its place on our nice list.
We were delighted to see the return of Kevin the Carrot, who's still going strong after eight years. And all the nods to Home Alone made us feel all kinds of nostalgic. Bonus points for being packed full of puns, which has become somewhat of a tradition for Aldi's ads.
John Lewis
Is it even Christmas until you see the John Lewis ad? This story got us right in the feels and includes the perfect Christmas ad soundtrack formula: a slowed-down cover of a well-known song (in this case, Mike Geir's version of Blink 182's 'All the Small Things').
Plus, unlike some of the other ads, this one isn't just an empty sentiment — the ad comes with a commitment to supporting kids in care.
ASDA
Son of a nutcracker, they've only gone and plugged footage of Will Ferrell from Elf (not a recurring character but certainly a memorable one) into the ad.
Bravo to the editing team: considering the film is nearly 20 years old, they've done an excellent job of piecing it all together, repurposing Buddy the Elf's lines to great effect.
ALL the nostalgia, a good dose of humour and a nice break from the tired Christmas ad tropes — without a doubt, our favourite ad of the year.