Coca Cola's iconic 'Holidays are Coming' ad has been unofficially kick-starting the festive season since 1995 and, over the years, there have been plenty of crackers from other brands, too.
These days, the battle of the Christmas adverts seems to come around earlier and earlier, as brands make one final push to ensure they end the year on a high.
But we thought it was only fair to wait until now before rounding up our five favourites of 2019. Plus, we know how some people feel about the 'C' word before the 1st of December and didn't want to feel the wrath of the grinches!
After asking around at Hyped HQ, we couldn't all agree on a clear winner — so, we thought we best run through them in alphabetical order instead…
You know how the saying goes: 'If it isn't broke, don't fix it'. Clearly, this was Aldi's mantra for 2019's Christmas campaign, as it stuck with its popular Kevin the Carrot route. Featuring a new enemy for Kevin in the form of Russell Sprout, the ad takes inspiration from some of the biggest hits from the past year, including Peaky Blinders and The Greatest Showman.
And what better song to go with it than a festive rendition of Robbie Williams', the biggest showman of them all, Let Me Entertain You?
As well as being a great little bit of storytelling, the pun-filled advert is also an excellent example of brands jumping on the back of trending topics or pop culture — leveraging them to further their own message (and sales!).
Who hasn't dreamt of being a rock star? Well, with the help of a drum kit from Argos' catalogue, you can be! At least, you can if the Christmas ad is anything to go by…
It is the first time the iconic catalogue, renamed the "Book of Dreams", has featured in the advert for a decade. Set to the soundtrack of Simple Mind's Don't You Forget About Me, the ad depicts a dad rocking out on a drum kit (which his daughter has circled in the catalogue)
in the kitchen, before another drum kit appears and his daughter joins him "on stage".
The ad aired to millions of viewers during ITV's Coronation Street and Channel 4's Gogglebox — both popular shows for families to watch together — demonstrating the importance of timing and getting your campaign in front of the right audience.
Promising to help you 'discover the magic of frozen', Iceland's offering is definitely one for the families. This year's ad features Elsa, Princess Anna and Olaf from Disney's Frozen 2, who all magically appear during a family game of charades and reveal their favourite things about Christmas.
The exclusive animations were created by Disney for Iceland ahead of the film's launch — once again demonstrating the value of linking your campaign to what's popular at the time. Just make sure it's actually relevant to your brand; people should be able to see a clear connection. Iceland mainly focuses on selling frozen food, so it's definitely nailed the brief here.
For a long time now, John Lewis has reigned supreme in the Christmas ad stakes — so there's a lot of pressure to deliver. But the retailer always pulls out the big guns, sparing no expense to ensure its ad is the most talked-about of the year.
Last year's Elton John advert missed the mark a bit, but 2020's offering bears all the hallmarks of the classic John Lewis ads we've all come to know and love. There's storytelling, and there's humour. There are themes of friendship and giving. There's even the typically wistful rework of a classic song — Dan Smith's cover of REO Speedwagon's Can't Fight This Feeling.
But, most importantly, there's Edgar the excitable (and highly merchandisable) dragon. When it comes to maximising marketing value, no other brand has mastered Christmas campaigns quite like John Lewis.
It's all well and good people liking and talking about an advert. But if it doesn't make them actually purchase something from the brand, then what's the point? M&S practically had us sprinting to our nearest shop to stockpile ALL the delicious festive treats on display in its ad.
The advert features Emma Willis and Paddy McGuinness at a snowy M&S Food Christmas Market, as they dig into lots of yummy food to the background vocals of a children's choir singing Fleetwood Mac's Albatross. But this isn't just any choir; this is an award-winning Welsh choir from Ysgol Gynradd Llwyncelyn primary school.
Even Emma can barely contain herself as Paddy tries to deliver the classic 'this isn't just any pavlova; this is an M&S pavlova…' line.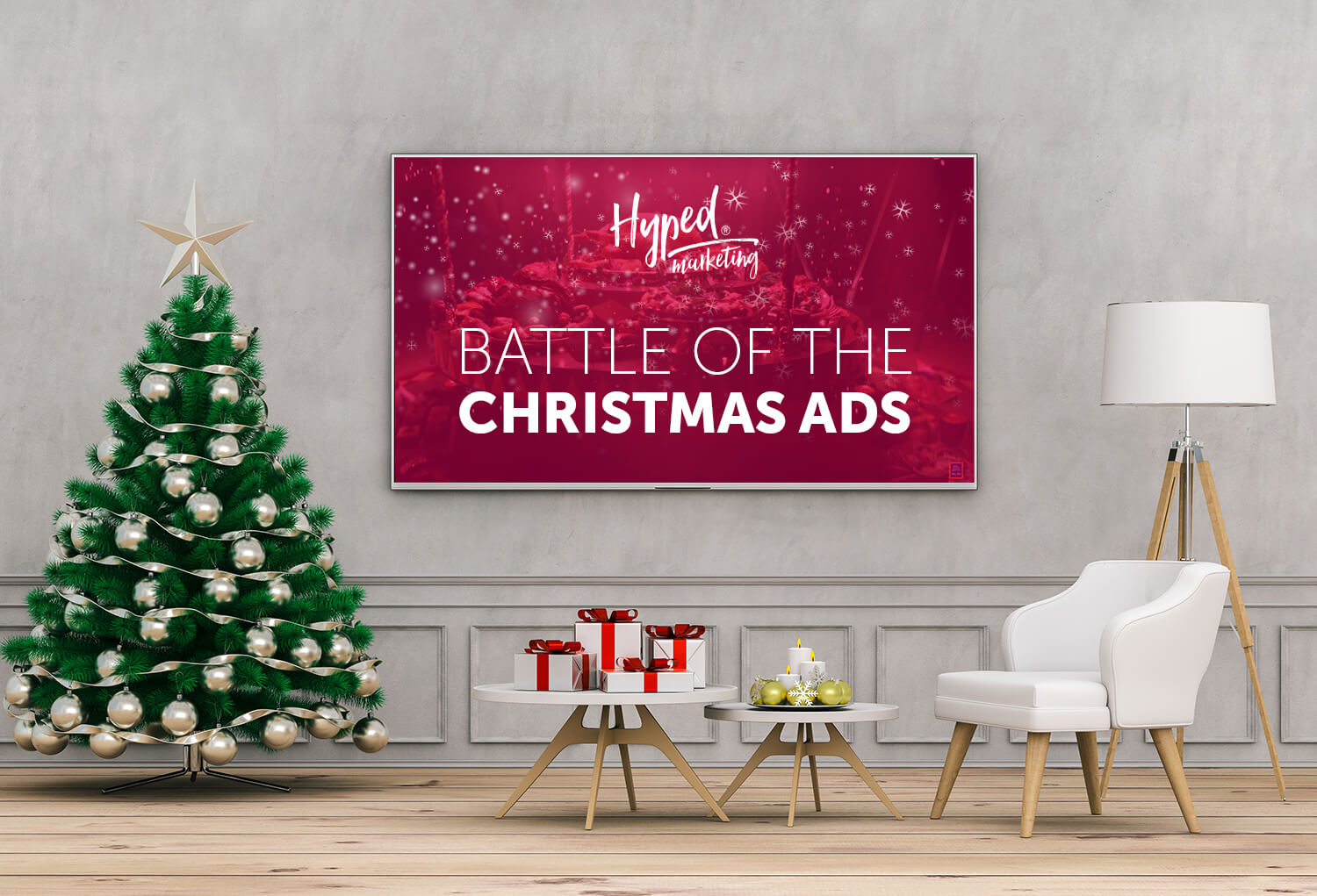 It's not all about the big brands
We know what you're thinking: how are small to medium-sized businesses supposed to compete in this area?
Admittedly, creating a showstopping Christmas campaign is much easier with a huge budget and a whole marketing department behind it. But let us draw your attention to this adorable and heart-warming ad from Hafod Hardware store in Wales.
The advert stars the shop owner's two-year-old son and encourages people to buy local. And it cost just £100 to produce! The only expense was paying a singer to record the song — a cover of Alphaville's 1984 hit Forever Young. What's more, the video had received more than 50,000 views within just two days of it being uploaded to YouTube.
Hafod Hardware's ad just goes to show that with a little creativity, careful consideration of your target audience (and perhaps a cracking song cover), you can create a great campaign worth shouting about.
A Christmas campaign doesn't have to mean a video advert either. Pay-per-click advertising, email marketing and direct mail are all fantastic ways of reaching your audience and encouraging sales during the festive period.
If you need a hand with your marketing in the new year, get in touch with our friendly team today!