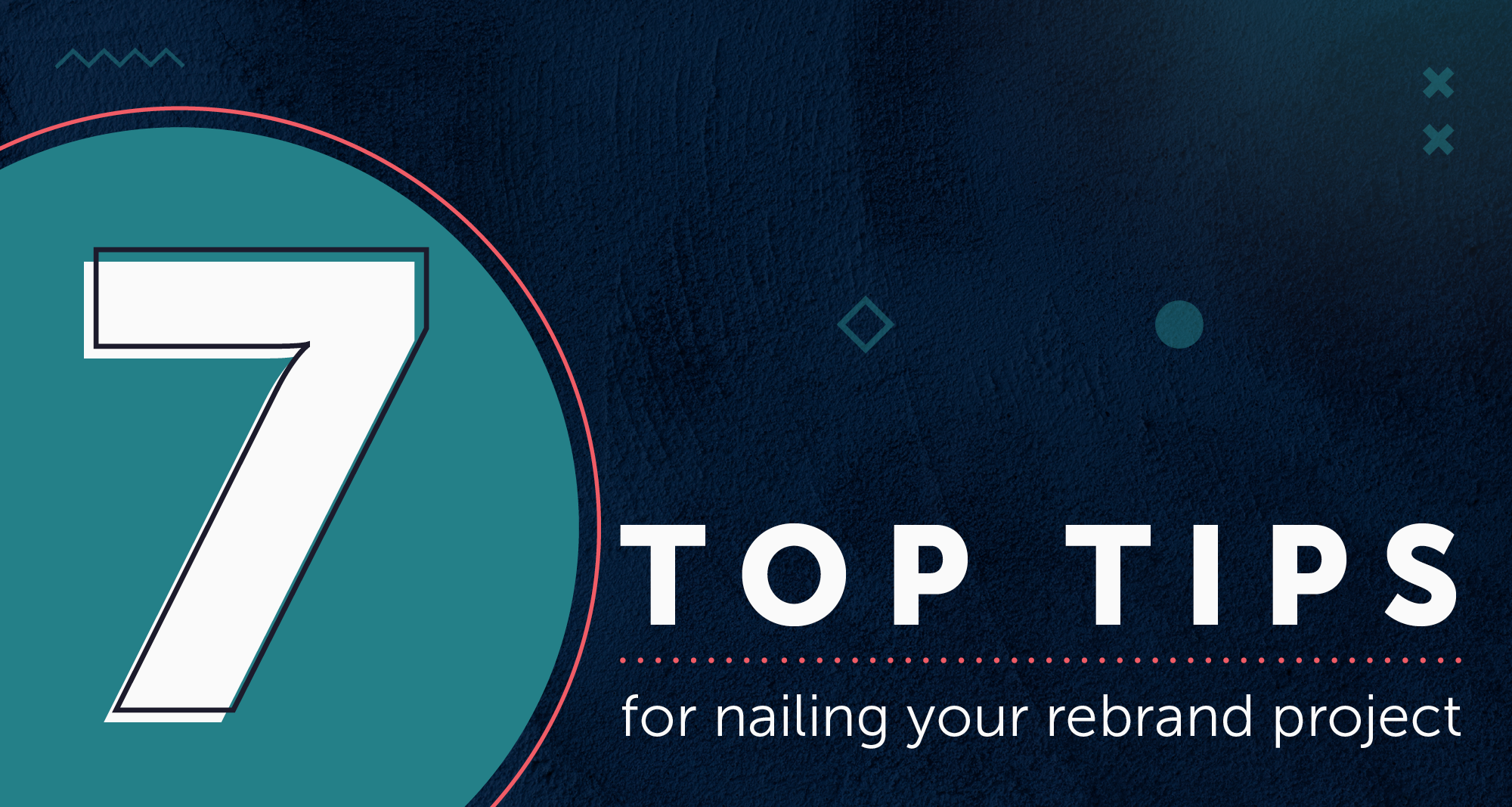 There are many reasons why you might be considering a rebrand.  
Maybe your logo doesn't stand out at networking events and conferences, or you don't feel like your marketing material sounds very 'you'. Perhaps your customers find your website difficult to navigate — or you're expanding into new markets and need to update your products and services.   
A successful rebrand will help you communicate your brand's current vision, mission and values — with the end goal of supporting your business objectives through compelling, laser-focused messaging.  
But where do you start? 
In our experience, taking a strategic approach is the key to success. So, here are seven top tips for ensuring your rebrand project runs smoothly and achieves the results you're looking for…  
1. Assess and understand the current market
Before you begin overhauling your assets, start by researching your market to understand how your business slots into the bigger picture — and what you'll need to do to stand out. 
First and foremost: who's your target audience? Drill down to define their demographics and establish how, why and when they're likely to engage with your business. You may find that your current brand no longer aligns with the customers you're trying to reach — especially if you've adapted your offering since you last updated your assets. 
It's also worth looking at what your competitors are doing to pull in good leads. Have any of them undergone a recent rebrand? What did you like about it — and what weren't you a fan of? How can you position yourself differently to capture the right attention?  
Asking these questions can help you discover at what point in the sales funnel you're losing customers to other businesses — and how you can tailor your branding to stop this from happening. 
2. Benchmark your existing brand identity 
Conducting an honest, thorough assessment of your brand is essential to identifying areas for improvement.  
Does your current branding reflect the business values and professional identity you want to promote moving forward? If the answer is no, it might be time to lose some of your old assets. 
This can feel like a brutal process; logos and other core brand elements can hold deep and emotional ties. But a rebrand is a great opportunity to do a bit of housekeeping and modernise your marketing assets to ensure you're representing your current business authentically, eliminating unnecessary elements and promoting your offering effectively. 
Take Elon Musk's recent Twitter rebrand or Mark Zuckerberg's 'Meta' launch as examples. Big changes can feel scary, but they're sometimes the key to future-proofing your business — and helping it grow… 
3. Align your
rebrand
with your business goals
Before you start shaking things up, outline your short and long-term targets and consider how a brand revamp could help you meet them. 
Whether you're changing your theme colours and rethinking your tone of voice guidelines or building a new website from scratch, it's important to define why you're rebranding and what it'll help you achieve.  
This clarity will confirm that you're taking your brand in the right direction and help you create a realistic timeline for the project — ensuring you've got everything ready ahead of important deadlines. 
It's also crucial that everyone in your company is on the same page about the purpose of your rebrand. Get department heads, stakeholders and other key decision-makers together to define some clear targets that work for the whole company, then assign a project lead to ensure consistency (and avoid a 'too many cooks' situation…). 
4. Nail down your unique selling point (USP) 
When you're shaping a new brand identity, there's one crucial question to ask yourself: what makes my company different? 
The answer is your 'USP' — the thing that distinguishes your offerings from your competitors'. Is it that you offer first-class customer service? Are your prices below average, or do you provide a unique product? 
Whatever it might be, defining what your USP is and how your branding can help it stand out is essential. Efforts to highlight your business' headline benefits could inspire a new aesthetic or messaging style — or equally determine what parts of your brand should stay the same.  
For example, if your main selling point is that your products are super affordable, keeping your tone of voice (TOV) on the more friendly, informal side would make more sense than changing it to seem more 'exclusive'. 
5. Create up-to-date brand guidelines
Brand guidelines dictate everything from what font you should use to your TOV and core content pillars (or 'content buckets', as we like to call them).  
Your brand guidelines ensure your website and marketing content stay consistent with your offering and continue to speak to the right people on different platforms. 
As a result, it's important to update them early in the rebranding process to ensure all new materials remain optimised and recognisable across the range of activities you're likely to need them for — whether on your website, in affiliate marketing or across in-person signage.  
Also, consider whether you need specific guidelines for your internal and external brands. You may want to emulate a completely different vibe in recruitment materials or internal communications compared to your client-facing stuff, so keep that in mind. 
6. Decide how you'll communicate your new brand
Whilst you're redesigning elements, refreshing brand guidelines and updating the TOV across your website, you'll need to plan to spread the word about your rebrand when it's finalised.  
Would you like to launch all at once, or would it be better to phase out the old brand gradually? What materials will you need to refresh straight away? Could you generate a buzz around the rebrand with press coverage or an event? Might your employees need training on new website elements or more information on updated company goals? 
This stage is the 'communicate' phase of the project, where you outline the steps to make stakeholders, colleagues and customers aware of what your rebrand is designed to achieve and get people excited about the new assets through internal and external marketing. 
7. Measure the success of your
rebrand
project
Like any other business project, you'll want to be able to measure the outcomes of your rebrand to determine what's been successful and what you could do differently in future.   
Tracking improvements in metrics like website traffic, lead conversions, SEO performance and customer experience scores can provide clear indications of where investments have paid off — and where you might need to make adjustments to your branding strategy. 
Not getting the results you were hoping for? Don't be afraid to make changes as you go along; sometimes, it's hard to see the whole picture until you start assembling the pieces.  
Remember, though: it can take time for people to adjust to change, and you might not see the benefits of your rebrand until later on. 
So, be patient and trust the process. If you follow all these steps, we're sure you'll nail it… 
Need a little help with your branding? We can manage every stage of your rebrand project to ensure you get the best results. Give us a call at 01252 717373 or email hi@hypedmarketing.co.uk to chat about your ideas.