We're delighted to be the lead sponsor of Surrey FA girl's football for a second year! The Hyped team will continue working with Surrey FA throughout the 20/21 season with plenty of exciting events, social media competitions and more up our sleeves.
Our goal, which is shared by Surrey FA, remains the same: to promote and encourage more girls to get involved in football from a young age. With such success last year, how do we plan to carry the momentum into another year of sponsorship?
Kicking off on a high
The beginning of last year's season was met with vigour as we got to know the various girls' football teams in and around Surrey. Getting involved with the County Cup draws was thoroughly enjoyable and created much excitement in the Hyped office. We were also elated to meet a handful of members from respectable women's clubs such as Crystal Palace Ladies F.C., who came down to take part in the fun!
It was fantastic to see a handful of women's clubs getting involved, serving as inspiration for the younger players. We also got to understand the extensive amount of planning that takes place behind the scenes at Surrey FA. The slick operation of the charitable organisation is certainly no accident!
After such a promising start, we were disappointed to see a sizeable chunk of the girls' finals cancelled following the coronavirus outbreak and as the national lockdown approached. Lockdown saw a complete hiatus in grassroots football, much to the dismay of the team here at Hyped and, of course, the players themselves. With fixtures not taking place, we had to find alternate ways to support the clubs and continue promoting girls' football.
This support took the form of online social media competitions and webinars to keep everyone connected, albeit from a distance. We kept morale up and maintained our brilliant rapport with Surrey FA, which has brought us nicely into the second season together with more gusto than ever! As we settle into a new normal way of life, we're still excited to continue supporting the cause via consistent promotion of girls' football and providing regular marketing training sessions to the clubs involved.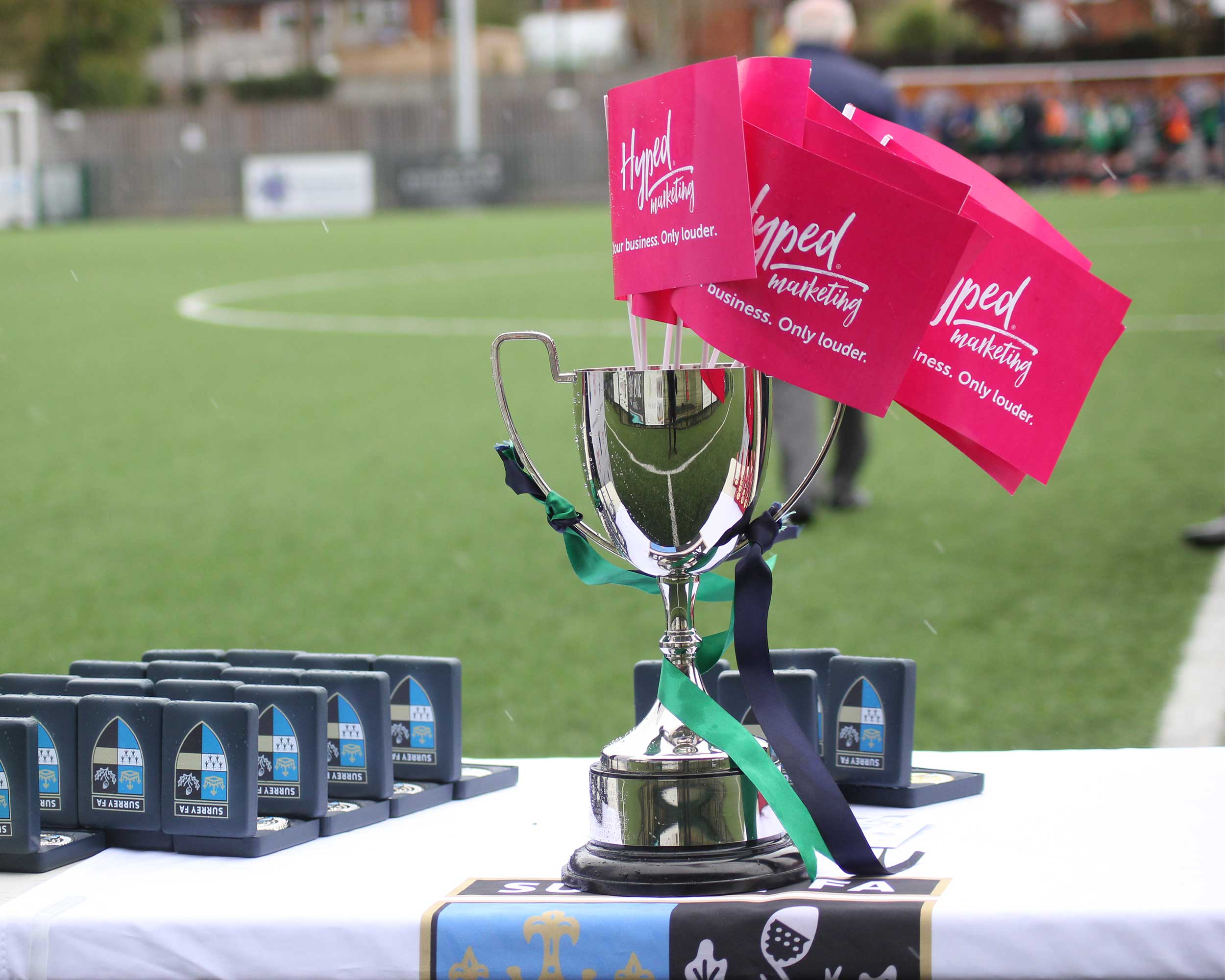 Relighting the fire
Hyped may be "just" a marketing agency. Yet, we've been far more involved with the girls' football than marketing alone: our business development manager, April Young, attended many of the games herself to hand out medals to and shake hands (pre-COVID!) with the players, as well as setting up and streaming all the County Cup draws. These extra efforts reflect how we're genuinely keen to reach younger players and show girls that football is a sport they should feel enthusiastic to play.
Working so closely with the superb team behind Surrey FA as well as having first-hand involvement with the players themselves has certainly re-ignited our own passions for grassroots football. April has taken up playing Sunday League football again after a few years off — inspired by the girls she has seen on the pitch. What's more, our managing director, Jamie Barlow, has been delighted to see his six-year-old daughter join her local Wildcats U11s club and enjoys it immensely. This just goes to show that our work in spreading the word about girls' football is having a tangible benefit on female participation.
On the renewed sponsorship, Jamie said: "It was a bit of a no-brainer for us to carry this sponsorship into a second year. It's become more than just a sponsorship; it's a great relationship and we're very excited for everything to come this season. Girls' football has a higher profile than ever. It's really excellent to see so many young players keen to get involved."
We've got a handful of exciting projects and competitions coming up over the next few months — so, keep an eye on the Hyped and Surrey FA social media channels to make sure you don't miss out!