The John Lewis Christmas advert has been screened so now it's officially Christmas! If you're a bit of a 'bah humbug, it's too early for Christmas', this post is not for you. However, if the Christmas TV ads, Christmas window displays and shelves stacked with tubs of Quality Street have got you thinking about how to give your brand a bit of Christmas sparkle, read on…
You don't have to be in retail or hospitality to get engage with consumers at this time of year. While of course there are businesses that traditionally slow down over the Christmas period, that's no reason to ignore it completely. You may not increase sales or sign more contracts, but just by jumping on the seasonal bandwagon you can raise the profile of your business and convert that into results in the New Year.
WHY JUMP ON THE CHRISTMAS MARKETING BANDWAGON?
Christmas provides lots of opportunities for non-Christmassy companies to engage with prospects and existing customers. It's a great way of making your core marketing messages a little more topical and getting attention, and also a good way to show some personality. Let's face it, if your company's Twitter account tweeted on Christmas Eve, "Visit our website to find out about our cyber security solutions" your audience (unless they don't celebrate Christmas) will have far more exciting things to do. But if you tweeted "Last year x% of companies were targeted by cyber criminals on Christmas Day, here's what to do before you go home tonight", you're going to get a lot more interest.
Christmas is also an opportunity to remind people that behind your company logo and brand are a team of people. Reflecting this in your marketing activities personalises your brand at a time of year that's very much about caring for others, giving gifts and spending time together. This doesn't mean that you need to stick your employees in front of a camera wearing their Christmas jumpers, although you can! Instead your business could nominate a charity to support as a Christmas campaign – ask your employees to see if there is charity that they all want to get behind – and arrange some fundraisers, make a corporate donation, and encourage your customers to support it too.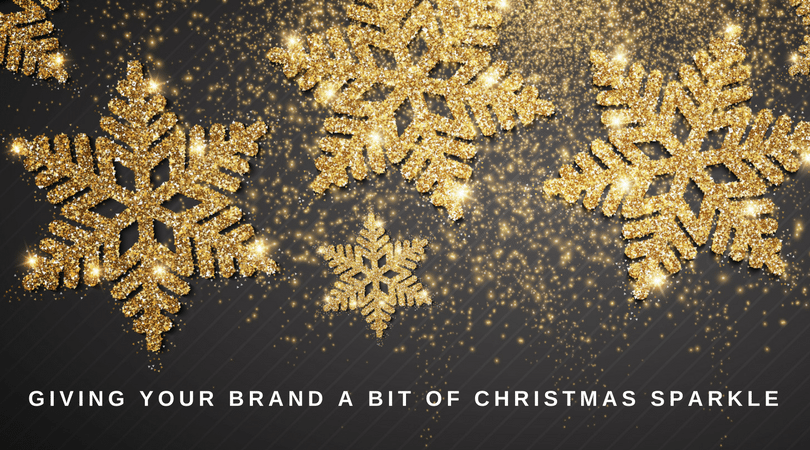 NEW YEAR RESOLUTIONS
Another significant date that neatly coincides with Christmas is New Year, and that's the time your prospects and customers may be setting aside to make some changes. For example, if you're running a business in the health and wellbeing sector it's a no brainer to run promotions and attract customers who want to fulfil health-related New Year Resolutions. Now's the time when people are beginning to think about making these changes so get your marketing content in front of them. You could even run special offers for those people who sign up before or during the Christmas period.
New Year is also good for B2B businesses too. Many companies will delay making any decisions such as changing service providers or implementing new solutions until the New Year, so sowing the seeds now will get your business to the front of the queue.
JUST ADD SPARKLE!
Even if you don't have any festive promotions or campaigns that you want to run over the Christmas period, people do appreciate it if your business makes an effort. Simple things that you can do include:
Make your branding festive

A great example of this is Starbucks with their Christmas-themed coffee cups. However, small changes such as seasonal changes to your logo, social media profiles or email marketing templates, can brighten up your customers' newsfeeds and inboxes without incurring huge costs.
Send Christmas messages
Another easy thing to do, but often overlooked. An e-Christmas card sent to your contacts or a seasonal message posted on social media is a nice thing to receive, but don't be tempted to turn it into a sales opportunity. Genuine, heartfelt and no sales is best.
Seasonal blog content

Now's the time to write those blog posts summarising what a great year you've had and sharing your predictions for 2018. Yes, lots of companies do them and they may seem contrived, but people are interested and they get good traffic. If you can think of ways to eventsjack Christmas with other seasonal posts they will also get more hits than evergreen content at this time of year.
Share other peoples' content

Want to inject a bit of sparkle into your social media posts but haven't got anything to share? Find other peoples' content and let the sparkle rub off on your business. Share your team's favourite Christmas ads, promote charity fundraising campaigns, or feature interesting news items that combine a festive element with something that relates to your business.
Finally, don't go overboard! Unless Christmas is your business, be mindful of prospects and customers who are more 'bah humbug' or don't celebrate because of cultural reasons. Birmingham City Council famously created a campaign in 1997 to encompass Christmas, Diwali, the German Christmas Market, Children in Need, the outdoor ice rink,
New Year's Eve and other city-wide events, called Winterval. This was a more inclusive celebration and meant that those who didn't get involved in Christmas were still part of a wider feeling of celebration and good will. If you think the religious or even the commercial connotations of Christmas might alienate some of your customers, perhaps a more seasonal approach celebrating winter and the general festivities would be a better fit.
Need help putting these ideas into practice, get in touch with our team! If you're thinking that 2018 is the year to up your marketing activities now's a great time to arrange a meeting and discuss your requirements – come and meet us before the New Year. Call +44 (0)1252 717 373 or email hello@hypedmarketing.co.uk