When it comes to Christmas marketing ideas, everyone tends to focus on the build-up. But what about the day itself and post-Christmas?
Those limbo days when everyone is made up of 50% chocolate, 10% Baileys and 40% [insert favourite festive foods here]. When people are lounging around, not sure what day it is, scrolling aimlessly through social media or perusing the Boxing Day sales on their phones. Did you know that Brits spend at least an hour of their Christmas day scrolling through websites, according to research commissioned by broadband provider Hyperoptic?
It's difficult to stand out from all the noise pre-Christmas when every brand is vying for customers' attention in the big December showdown. Plus, if you haven't already thought about your pre-Christmas campaign, it's probably too late! (Your Christmas marketing campaign needs to be up and running in November if you want to get the most bang for your buck.)
But you CAN take advantage of the quieter lull between Christmas and New Year — when many businesses take a step back from social media, but customers are still active.
Both B2C and B2B businesses can use this time to push out a consistent stream of content to keep them at the forefront of customers' minds over the festive break and help build brand awareness. And help people keep track of what day it is!
Before you get started, you'll want to pick a theme to tie all your content together (we've gone for 12 days of Christmas content). Your brand guidelines will dictate the overall look and feel, but you may want to introduce other visual elements that help set the campaign apart and show a distinct content series.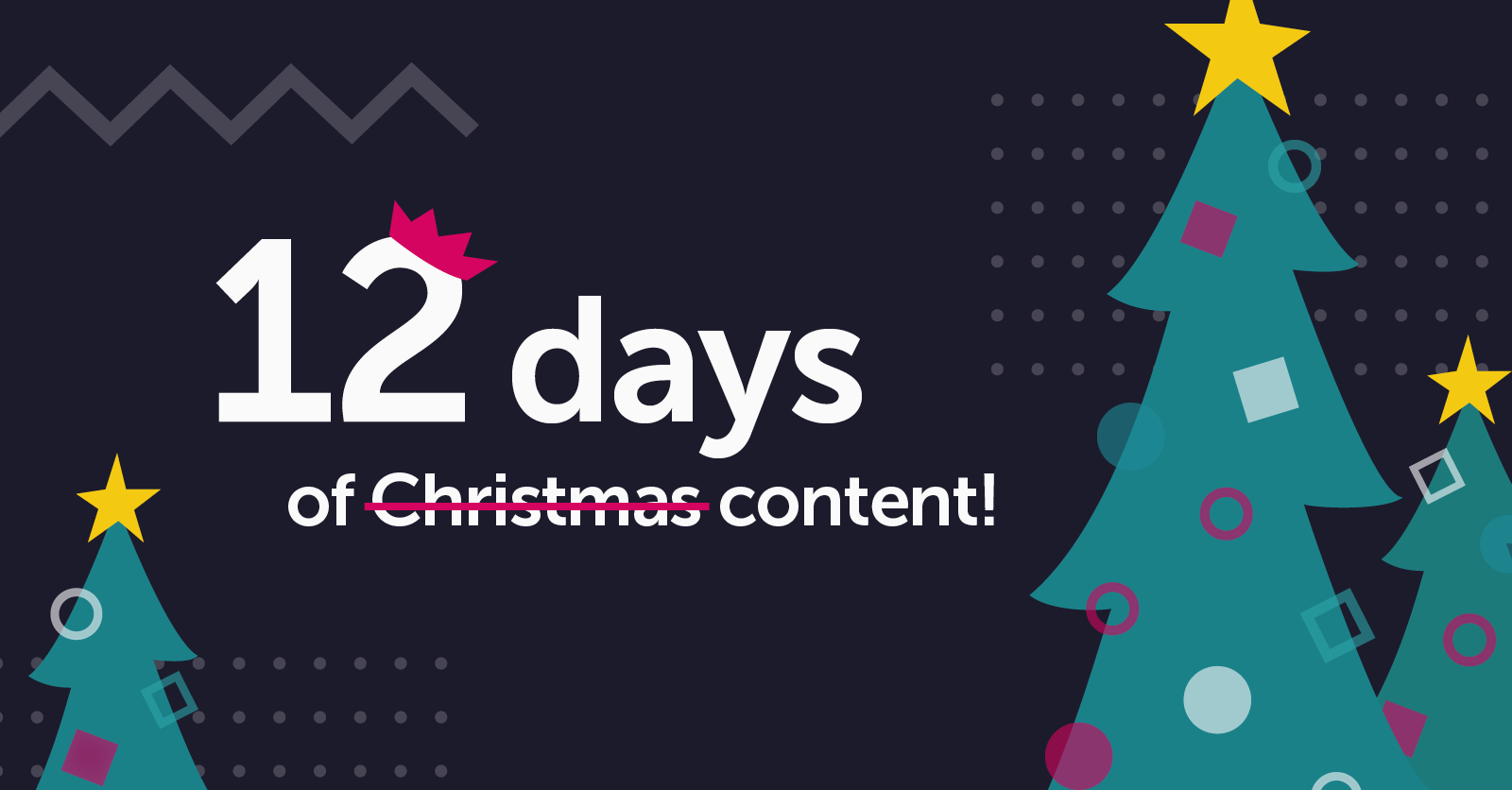 Onto the content ideas!
Every piece of content should be something that engages your audience and looks great for your brand. You want to tie the content back to your business or industry where possible. But it's still the festive period — so keep it light-hearted, fun and focus more on showing your personality and interacting with your audience than overtly pushing sales.
Without further ado, here are our 12 days of Christmas content ideas…
Day 1 — Christmas Day
Kick off your campaign with a Christmas greeting. This is a good opportunity to get creative — perhaps with an animation, illustration or video message from your team. Remember, there'll be lots of similar Christmas messages going out on this day, so make yours stand out with eye-catching visuals.
Day 2 — Boxing Day
Ask a question. Engage and interact with your audience by asking them something. Boxing Day is often reserved for leftovers and Christmas films, so why not ask them what their favourite Christmas movie is and why?
Be sure to let them know your answer as well. And if you can tie your answer into your business or industry — even better! Supply home security products? Got to be Home Alone (but which one?) Sell pet insurance? It has to be Gremlins.
Day 3 — 27 December
With Christmas Day falling on a Saturday this year, we get a bonus Christmas Monday! Sounds like an excellent excuse for a quiz, if you ask us. Instagram's sticker feature is a great way to ramp up interactivity on Stories with multiple-choice quizzes or polls.
Day 4 — 28 December
Another bonus day (we must've been good this year). Why not do a Top 5 post today? This could be anything from top tips to your favourite festive treats or games. A list ranking Celebrations or Roses chocolates is sure to spark some debates!
Day 5 — 29 December
Share a positive quote for #WednesdayWisdom to keep the festive spirit going and remind people what day it is.
Day 6 — 30 December
Shine the spotlight on a charity (or charities) that you'll be supporting in the coming year and ask your audience to do the same. You could even create a unique hashtag for this to help promote a wide range of charities.
Day 7 — New Year's Eve
Reflect on your business' achievements and highlights from the past year (we'll forgive a little self-indulgence here). Try laying out your accomplishments in a fun visual, such as an infographic, illustrated timeline or animation.
Day 8 — New Year's Day
Go easy on people today with something fun to lift them out of their hangovers. Free pizza (or free food in general) always goes down well. So, why not send a gift voucher straight to the inboxes of the first five people to comment? Nothing incites people to share businesses on social media like free food.
Day 9 — 2 January
Come January, you can start getting a touch more promotional with your content. Set out your resolutions and goals for the year ahead, thinking about how these goals will benefit your audience. As always, spark conversation by asking your audience to share their resolutions, too.
Day 10 — 3 January
Share a client/customer testimonial. Use this opportunity to thank your customers for the past year and show potential ones what they're missing. And make sure you direct people to your Google Reviews or Trustpilot pages so that they can leave a review too.
Day 11 — 4 January
Share your contact details. It's time to get back to the office (literally or metaphorically depending on your business' work set-up), so make sure people know how to get hold of you/where to find you.
Day 12 — 5 January
Finish on a high: offer a discount for your products or services. How you do this and who you give it to is up to you!
Need a little help with your social media content? We've got a whole range of Christmas marketing ideas (or ideas for any season, really) up our sleeves. Get in touch to find out how we can help.