Although it might not always spring to mind when you think of 'social media', LinkedIn has been around longer than Facebook and Twitter. So, as one of the longest standing social networking sites, your business could be missing a trick if it isn't on LinkedIn.
Founded in 2003 in California, LinkedIn is the 'professional social network' — a place for employers and employees to engage with industry news and talk all things business. And after being bought by Microsoft in 2016 for $26.2 billion, LinkedIn now has over 774 million users, with 57 million (and counting!) companies listed worldwide.
As technology (and the reach of social networks) advances with increasing speed, so have the possibilities for growth on this platform — particularly now that the pandemic has created more opportunities for remote networking.
So, how can you leverage LinkedIn for your business?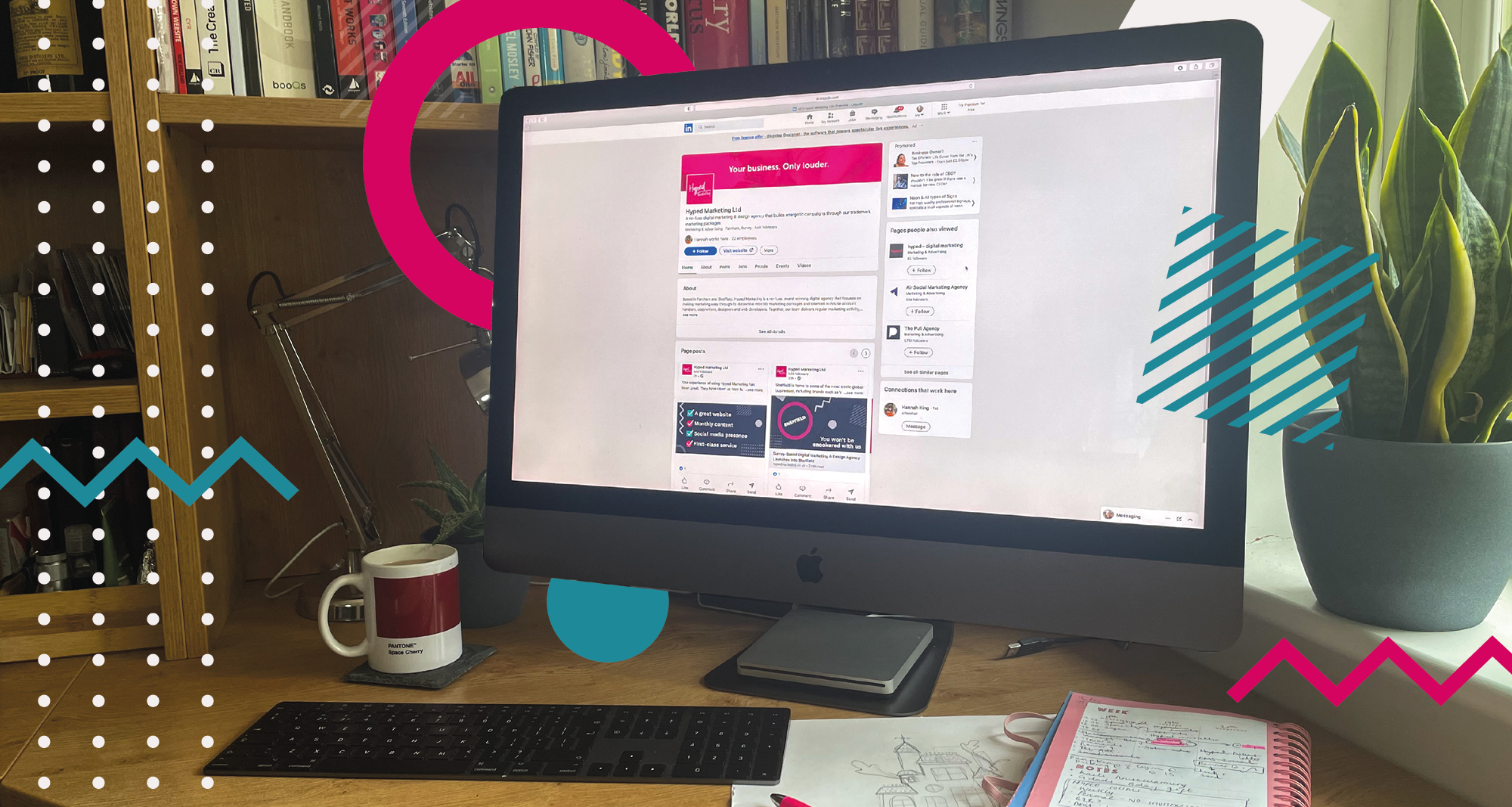 Getting started
As an individual, LinkedIn is a place to share and shape your professional story. As a business, it's another opportunity to foster a loyal following and translate engagement into leads.
It might look a bit like Facebook, but don't be fooled; this is not a space to post pictures of your night out or share funny dog videos. (Well, maybe you'd get away with the latter. Who doesn't love a dog video?)
Instead, set up a LinkedIn page for your company to promote your brand, establish your business as an industry leader and create an online community for your employees. With a clever LinkedIn strategy, you can also keep up with relevant news, research the competition and expand your audience.
To get started, all you need to do is set up a profile — just make sure you finish the process. Companies with logos get six times more visits, and complete profiles get 30% more weekly views. So, make sure you fill out the tagline, feature a high-quality logo and header image, include details about your company and add your location. You can also add three niche or industry-specific hashtags in your profile and a custom button that prompts people to visit your site.
Features: which ones are best for businesses?
Here's a selection of the features that have been designed to help businesses interact, engage and — hopefully! — convert…
LinkedIn Events
With LinkedIn Events, you can organise and host live panels, workshops, seminars and more — all on a trusted virtual platform. Hosting an event enables you to get involved in industry discussions, network in real-time and allows people from all over the world to learn about your business.
LinkedIn Live sessions gain seven times more reactions and 24 times more comments than a native video. Almost anyone can use this feature — you just need 150 followers or connections. For example, a foodie account could host a live 'cook with me' session using featured equipment. Or a cyber security company could interview a guest speaker to discuss a topical issue facing the industry.
Tip: to host Live sessions, you'll need to prove you're legit. LinkedIn will check if you've shared original content recently and if you have a history of abiding by community guidelines. So, if you're hoping to embrace this feature, keep it clean, people!
My Company tab
The My Company tab on your business page accumulates all the top posts from your team — creating a staff-only hub that allows employees to connect, interact and celebrate the work achieved.
As the average employee has around 10 times as many connections as a company has followers — and staff are 60% more likely to engage with content by coworkers — encouraging staff to share content from and about the company can leverage individual networks to improve your business' overall visibility.
Top tip: LinkedIn gives business pages 100 invite credits, meaning you can invite up to 100 people to join your page. So, choose wisely when making people company admins; these employees will be able to invite people from their networks, so you want to pick people with the right connections to get the most reach out of your credits.
Content Suggestions
Ever found yourself wondering what on earth you should post about on your business page? Fortunately, LinkedIn does some of the work for you — phew!
The Content Suggestions feature gets unlocked when you complete your page and allows you to view all the top trending topics, posts and articles from your industry. When you set up this feature, you'll be prompted to select your target audience based on industry, location and seniority to get you started.
Not only will you be shown the most popular content, but you'll also be able to see the engagement rates for each article, helping you to determine the best subjects and posts to share with your audience.
One of the best things about LinkedIn is the transparency of engagement statistics. It tells you how many people have seen your post and how many people have engaged with an article. Plus, as a business account, you can see a breakdown of statistics under the Analytics tab, which shows you data on visitors, updates and followers. All of this will help shape your strategy and tell you when your audience is most active.
Top tip: LinkedIn's algorithm favours posts from personal connections and ranks based on interest, relevance and engagement probability, so encourage employees to share posts or articles on their own profiles and then share them on the company page.
Content: what should I post?
Posts
There are a whole host of fancy features these days, but there's a lot you can do with a simple post on LinkedIn. Whether your business is sharing a pithy observation or adding commentary when sharing an industry expert's post, a standard text post is the easiest place to get started.
Plus, you can upload PDFs and slide shows (like PowerPoint or SlideShare) on LinkedIn, allowing people to click straight through to whitepapers and presentations directly from their home page. That's one big cha-ching for multi-channel engagement! Don't forget to include a few well-researched hashtags, too — two or three should suffice.
Top tip: did you know you can notify employees about a post you think they'll find useful or be keen to share? As a page admin, you can alert your team to posts they should be aware of and encourage them to share them with their networks.
Photos
Much like other social media platforms, you can also post rich media and imagery on your page. Posts with images receive 98% more comments than ones without, and lots of comments = more engagement!
Top tip: remember that a graphic that works for Instagram might not work for LinkedIn. Take a look at what other people in your industry are posting to understand what works best. And go easy on the stock images. Please.
Articles
LinkedIn Articles are a great way to increase your visibility within your industry and showcase your employees' expertise on a subject. They're long-form pieces, like blog posts, which are shared on LinkedIn's integrated publishing platform. Perhaps you could offer advice to other professionals in your field or share personal anecdotes about your experience and career? Whatever you write about, make sure it's relevant to your network and their interests to prompt discussion and boost the article's reach.
Tip: you can't post an article from a business page. However, this doesn't mean it can't be part of your business' marketing strategy. Offer the opportunity for employees to share their thoughts and expertise in an article post for their account so that you can share it on the company page and encourage the rest of the team to do the same.
Videos
Native videos are five times more likely to start a conversation than any other type of content. Plus, research has found that 87% of viewers prefer to watch video online vs on the television if it means access to more behind-the-scenes content. So, when it comes to making content for your business page, it's worth mixing up your posts with some videos. The options are endless — from filming interviews with existing staff about their role in the company to sharing your brand story!
Top tip: videos autoplay within user feeds as they scroll past, so make sure those first few seconds catch their attention.
Polls
LinkedIn isn't all business and no pleasure — you can have fun with it, too! Anyone can post a poll on their LinkedIn page, which is a fun way to encourage a conversation with followers and learn more about their interests, likes and dislikes.
You could ask your followers for their opinion on an upcoming launch or event, carry out market research or simply ask them something lighthearted — to pick their favourite meme out of a selection, for example. Polls can stay active for days and continue to generate engagement long after they're posted, so it's an easy way to stay active and visible.
A lot of work goes into curating the perfect social media marketing strategy. Honestly, who has the time? Ahem: over here, over here! It's literally our job, and we're bloody good at it. Even if we do say so ourselves…