Try to target everyone, and you'll inevitably end up targeting no one. It's practically impossible to run a successful digital marketing campaign if you haven't segmented your audience into manageable chunks.
Who are they? What do they do in their spare time? Where do they live? When are they online? Why do they use the internet? And how do they want to be communicated to?
These are all questions you should be asking to define your target audience. The more specific you are with your targeting, the higher the quality of your leads will be.
So — where to start? One of the key ways to segment your audience is by age.
What do baby boomers, Generation X, millennials and Generation Z have in common?
They're all spending time online.
Now, you just need to understand what resonates with them and precisely where to find them.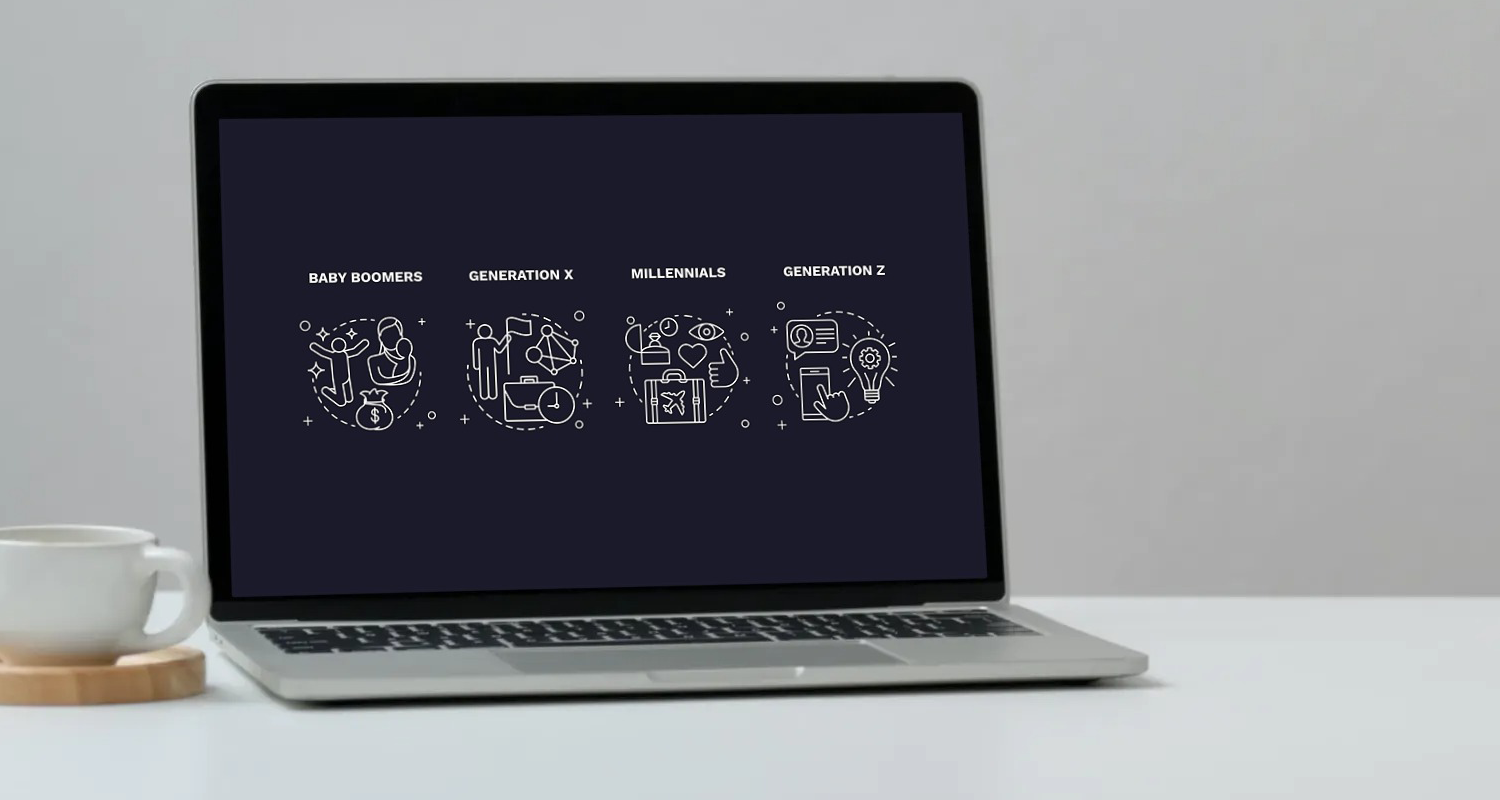 Baby boomers (1946 – 1964)
While baby boomers may be less likely to purchase via a swipe-up link on an Instagram story, they still form a substantial proportion of the online consumer market. Statistically, the best way to reach people from the age of 55 upwards is via email or search/PPC marketing. Which makes sense, as more than 80% of boomers would choose a desktop computer or laptop over a smartphone. Some 85% of boomers also research products online, so it's essential that the content they find on your business is up to scratch.
Boomers want high-quality products and services. They're interested in knowing the real value of a service and how it'll make their lives easier. This generation also tends to be very loyal to the products they know and love.
Generation X (1965 – 1980)
Gen Xers lead busy lives as they tackle the undulations of career and family. However, this generation typically has a more refined understanding of technology than the average baby boomer. You can probably find them reading the news on their iPad in their spare time…
Yet, marketing to Gen X is something many companies forget to do. With 54% of this generation feeling frustrated that brands consistently seem to ignore them and their interests as an age group, it's time to start giving the people what they want!
To reach Gen X, go with email or Facebook. But whatever you do — ensure the user journey is quick and straightforward from start to finish. You can hook a Gen Xer using video, too, as nearly 80% of this generation regularly watch or download videos each month.
Generation X are less likely to buy into trends and will choose a service because of its 'organic', 'do-good' qualities. They also tend to have more traditional values than millennials and focus on family, financial security and personal wellbeing.
Millennials (1981 – 1996)
Social media starts to play a large role in marketing to millennials, who are predominantly influenced by Facebook and Instagram. When targeting this group, social media should, therefore, form a critical part of your digital marketing strategy as millennials are 19% more likely to share content on Facebook than any other generation.
Millennials also crave approval from their peers before embarking on a decision, with 68% saying they're influenced to make online decisions by their friends or family. What's more, three-in-four millennials will perform 'extensive' research before deciding on a purchase, with half reporting that online reviews played a notable role in their recent purchase.
To reach millennials, honest and authentic messaging via social media is your best bet. Receiving positive publicity for your company's ethics and eco-credentials can also be a great way to turn heads, as 61% of millennials view making a difference as a personal responsibility.
Generation Z (1997 – 2015)
The majority of Generation Z are still in their teens and have grown up knowing nothing other than speedy access to the internet (dial-up who?). They're passionate about issues they hold dear and have a hyperawareness of the world. But they also have short attention spans, so your messages to this generation should be delivered via social media (primarily Instagram or Tik Tok) in bite-sized chunks. And remember: Gen Zers are twice as likely to use online-only stores than any other generation.
This generation is receptive to engaging, fast-paced content such as videos, GIFs and 'memes'. However, it's worth noting that Gen Zers will see right through inauthentic and disingenuous marketing attempts (oh — and they hate ads!).
Delving deeper
Businesses often end up targeting just one generation as a default. But while generational marketing is a great starting point, many tend to neglect one vital point: each generation is made up of millions of completely unique individuals.
It's unlikely your target audience will fall neatly into one of the generational brackets. So, it's essential to let the stats guide but not drive your digital marketing. You might assume you know your audience. But how can you know for sure without doing your research?
Advanced analytics tools mean we can understand our digital audiences better than ever before. And when you start evaluating your audience in intricate detail, you'll quickly see that age is just one aspect of the overall audience profile.
Looking at all angles is, therefore, crucial to ensure you devise a digital marketing strategy and tactics that target the right people, in the right place and in the right way.
If you're having trouble with your digital marketing or aren't sure how to profile your audience, take our free CMQ marketing audit now to find out how we can help!