Now one of the biggest players in the social media world, Instagram is the dog's bollocks if you have a visually appealing brand. Over the past decade, it has become far more than a simple photo-sharing app, with rapid growth leading Facebook to acquire the platform for a whopping $1 billion in 2012 — just two years after it first launched in 2010!
Instagram has given individuals the opportunity to create and refine their personal brand online, giving rise to the 'Instagram influencer' — a vocation that has become highly lucrative for many. But 'influencing' isn't just about ex-Love-Island stars promoting the latest teeth whitening strips or fake tan. Businesses can also use the platform to drive awareness, credibility and desirability.
As it stands, 25 to 34-year-olds represent the vast majority of users on Instagram, closely followed by 18 to 24-year-olds, making Instagram the perfect social media marketing tool for businesses looking to land in the lap of these target markets.
But what do all of the features within Instagram actually do? And how can you navigate the elusive algorithm to incorporate this super channel into your company's social media strategy? Let's break it down…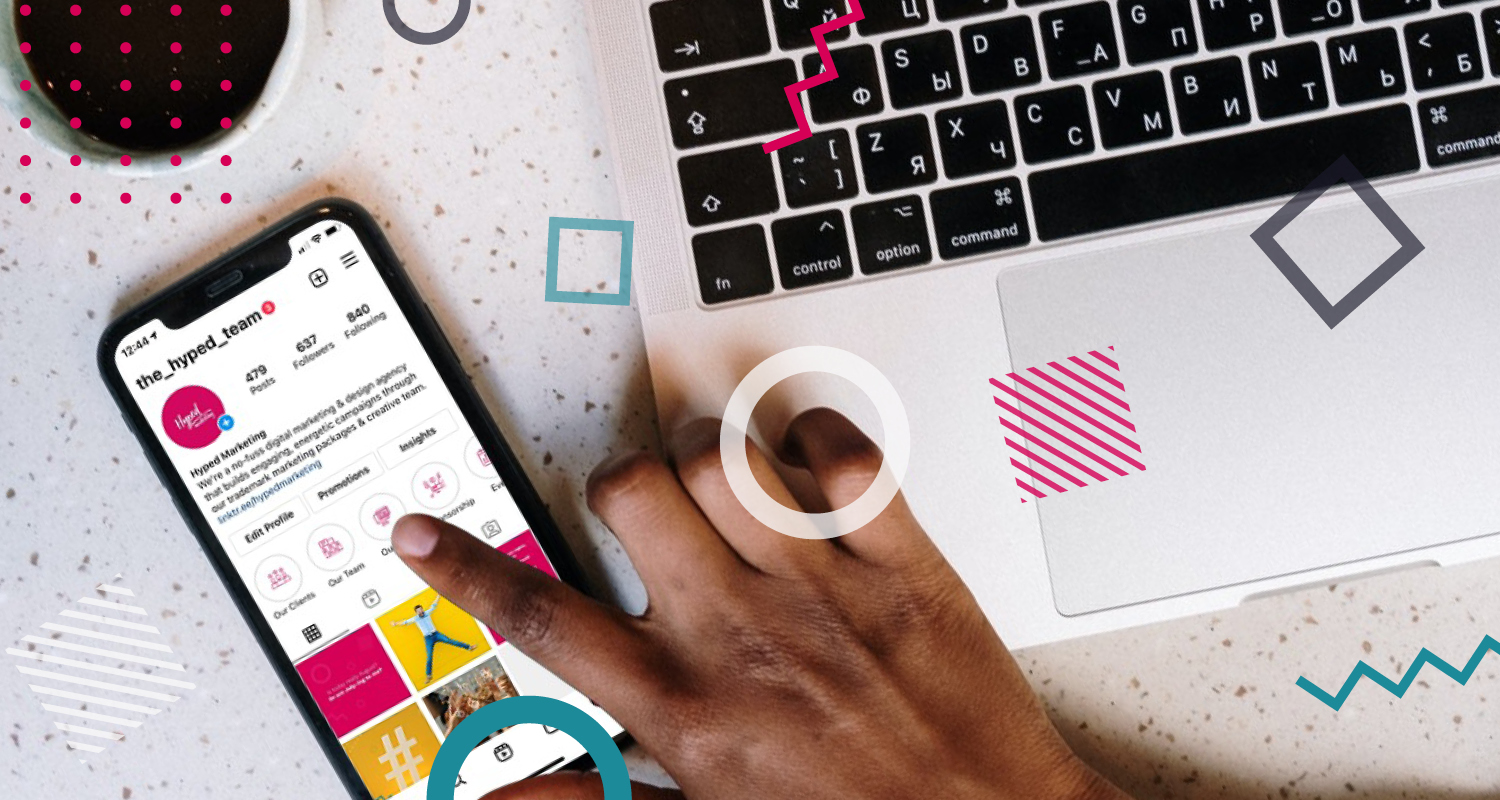 Single photo post
Single photos have been the standard feed posts on Instagram since the beginning. But don't mistake this feature for the basic b*tch of Insta content. Those little square pictures (no rectangles allowed here — something to remember when taking and editing your pics) can make a big impact.
The good news is, you don't need to be Annie Leibovitz to create a beautifully curated grid. With a good eye, a little imagination and a half-decent camera or smartphone, anyone can snap a photograph for their feed. That being said, this is a predominantly visual platform — blurry, low-quality images with dodgy filters are an absolute no-go, so make sure they're in focus and that you've got good lighting. (Fortunately, these days, smartphones let you adjust that sort of thing with the tap of a finger.) Plus, if drawing or InDesign is more your thing, there's nothing stopping you from posting illustrations or graphics.
But Instagram is no longer just about beautiful images; it creates a brand narrative through a combination of visuals and words. And did you know that Insta's algorithm rewards you for the amount of time users spend interacting with your post?
Captions
Opinions vary on what the ideal caption length is. Some say the sweet spot is about 65 to 70 words, but others would argue that's too long. Regardless of the length, if a caption isn't engaging, people won't read it — a real ball ache when you've spent ages writing it up. That's why we'd recommend mixing it up; keep things short and snappy when words aren't necessary (think Hemingway), but don't be afraid to go all Shakespeare if you've got something valuable to say.
If you're going long, think about creating 'saveable' content such as recipes or step-by-step guides, which users will want to go back to. This means they'll be more likely to hit that 'save' button — the holy grail of Insta engagement.
It's also worth noting that links in Instagram captions don't work yet, but you can include one in your bio. To save you constantly having to swap out the link, free bio tools like Linktree are a great way of including a list of multiple links all in one place.
Hashtags
Instagram offers a generous limit of 30 hashtags per post. Hashtags are a great way for audiences to search for relevant content and businesses to analyse and see what's popular or trending. Adding a mixture of high-performing and niche hashtags can help more users find your content and business.
Instagram's search bar is a great place to start your research. It tells you how many posts there are within a hashtag, giving you a good indication of its popularity.
To be honest, we could write a whole post about how a hashtag marketing strategy can increase post reach and engagement. Oh, wait… we already did!
Geotagging
If you want to get more granular with who you target, you need to be using geotags. By adding a geotag, you're essentially pinning your location to that photo (you can also do this in Stories and Reels — but more on these features in a bit).
Whether you're a global company looking to target audiences in specific regions or a local business trying to reach nearby customers, geotags are an excellent tool. For example, if you're a bar, pub or restaurant, geotagging your images could attract people on the hunt for a place to eat or drink in the local area.
(Top tip: let your followers know they can turn on 'push notifications' for your account to ensure they get notified every time you post and make sure your content doesn't get lost in their feed!)
Gallery post
A carousel or 'gallery' post is a popular feature that allows you to select multiple photos (up to 10 at a time) in a single post. Think of it a bit like a photo album.
There are loads of different ways you could use this feature. You could share the highlights from a recent event. You could show off each product in a new range or use it to demonstrate the before and after of using your services or products. If you're in real estate, you might use it to promote a new home for sale, highlighting a different room or feature with each image. If cooking is more your thing, you might want to use it to demonstrate new recipes. SO many possibilities!
The caption will apply to all the photos in the gallery (so, make sure it makes sense with each image on its own), but you can tag people or other businesses in each photo individually.
(Top tip: the first picture in the selection will be displayed as a thumbnail on your grid and users' feeds, so choose it wisely. Once the user has scrolled past the post once, Instagram will continue showing the other images in the gallery in an attempt to get their attention. Desperate? Maybe. Smart? Definitely.)
Instagram Stories
Instagram boasts roughly one billion monthly active users — 500 million of which watch Instagram Stories (the platform's 24-hour video feature) every day.
Stories are an excellent way to show a bit of personality and engage with your audience on a more casual basis (because they disappear after 24 hours, Stories tend to be more spontaneous and less curated). For example, you might use Stories to give your audience behind-the-scenes access to an event.
The sticker icon then ramps up interactivity by allowing you to add things like polls and quizzes. You can even use the feature to ask your audience questions — excellent news if you want to conduct a bit of market research or gauge your audience's reaction to different product ideas and services.
Another nifty feature within Stories is the auto-generated captions. According to Instagram, 60% of people watch Stories with the sound on, which means that 40% watch with the sound turned off (GCSE maths coming in handy there). Captions make sure your content reaches that final 40% — not to mention make it more accessible.
(Top tip: share your Stories for more than 24 hours by pinning them as a permanent Instagram Highlight on your profile. You can have multiple highlights, so it's a great way to keep successful content running and categorise your Stories so that users can go back to them again and again.) 
Reels & video posts
Approximately 60% of businesses use video as a marketing tool. If you're a part of that remaining 40%, we know what you're thinking.
Sh*t.
But don't worry — it's really easy to incorporate video content into your digital marketing strategy (we're not talking blockbuster movies here). Video posts on your Instagram Feed can be up to 60-seconds long and come in many different forms, from quick how-to demos to announcements.
Recently, Instagram also added another new short-form video feature, which has proved hugely popular with users. You're probably already familiar with what Instagram Reels are (if you're on Insta, we can almost guarantee that you've watched one, even if you didn't know it!). These dynamic short-form videos are often accompanied by trending audio and enable you to share valuable and entertaining content with your audience.
Reels are great for increasing engagement and allow brands to get creative with their marketing, thanks to the editing features. For example, the seamless transitions are great for adding new music or showing movements such as changing outfits. Like Stories, you can also add auto-generated captions to Reels.
(Top tip: the algorithm will prioritise content that's entertaining, funny and interesting, but low-quality video or visibly recycled content from other apps — *cough* TikTok *cough* — will be penalised. You need to learn how to make Reels that are consistently high quality and original to see continued growth.)
IGTV
IGTV is essentially an app within the app — a platform for sharing videos of up to an hour-long (Instagram's answer to YouTube, if you will). Unlike YouTube, there are no adverts, meaning your audience can watch your content without interruptions (at least for now). Users can also pause and slide along the timeline to skip to particular video sections. And because IGTV uses vertical videos, it's easy to upload videos straight from a phone.
At the moment, only verified users (the ones with that little blue tick) can create one-hour videos. All us mere mortals have to get by with a maximum of 10 minutes — but that's still plenty of time to deliver some engaging video content! This feature is great for industries like fitness and beauty, which can use IGTV to post and save series of workout tutorials or beauty routines. British Vogue's #InsideTheWardrobe series is also a good example of how fashion brands can tap into IGTV.
(Top tip: make sure your videos are in portrait mode at a ratio of 9:16 to guarantee they'll fit properly on the screen.)
Instagram Live
Instagram's Live feature puts you right at the top of the Stories feed and automatically sends push notifications to your followers to alert them that you're going live. Plus, Insta's algorithm loves users who embrace this feature, so it's worth trying if you're keen to ramp up visibility.
The coolest thing about Instagram Live is that it enables your audience to comment in real-time, providing an element of interactivity and giving you the opportunity to engage directly with viewers. So, if you find yourself answering the same FAQs regularly or want to explain a product or service in more detail, it could be worth getting an Instagram Live session going!
You can also see exactly how many people are watching at any given time, which can be a handy way of gauging when your audience is most active — and when the best time is for you to post on Instagram.
(Top tip: market your Instagram Live campaign like you would any other in-person event and plan your content, but don't read from a script. The best Live series are those that feel authentic and show some personality.)
Promoted posts
Building a following takes time, but there is a way to speed things up a little: promoted posts. Insta ads offer more options for customising and distributing your content, but they can be a right pain in the arse if you don't know what you're doing. Promoted posts are an effortless, cost-effective and accessible way for even small businesses to start advertising on social media.
You don't need to spend ages designing new content for promoted posts. All you have to do is choose a post from your existing feed and tap 'Promote' under the post. You'll then be prompted to fill in a few details about your goal, audience, budget and duration. If you didn't link to a Facebook account when you set up your Instagram business account, you'll need to connect an account; if you're already linked up, you're good to go. (Okay, maybe not quite good to go — Instagram does need to review it and approve it first — but you get the idea.)
Both B2B and B2C brands can use this feature to drive traffic towards their content and reel in new customers (pun intended).
(Top tip: take a look at your post insights to establish which content has performed well and will be worth promoting.)
Product tags & shopping
You can even shop on Instagram now! Which, of course, means you can sell too.
Once your business has been approved to set up product tags, you can tag up to five products in a single post and link them to your website. From there, your customers can shop directly from the Instagram app (unfortunately for our bank accounts) in just a few clicks, reducing the steps it takes to find and purchase the product online. It's an effective strategy, with 130 million users tapping on Instagram product tags every month.
The Stories feature also has enormous potential for generating sales. Accounts with 10,000 followers or more can directly link to products with a simple 'swipe up' link, and anyone can tag brands or individuals. This shopping feature is especially useful for industries such as fashion and beauty, which often use influencer marketing strategies to promote and sell products on Instagram. (Although any company with a product to sell can make good use of it.)
(Top tip: if you're still not sure how to make the most of Instagram — or simply haven't got the time or resources to think about it — it's time to call in the big dogs for a bit of help with your social media marketing strategy. By 'the big dogs', we mean us, of course. Considering half of us were practically raised on Instagram, we reckon we know our sh*t.)