Twitter — the birthplace of the #hashtag, home of memes and the downfall of Donald Trump.
Founded in March 2006, Twitter is one of the longest-standing social media platforms, celebrating its 15th birthday this year (who remembers the iconic egg avatar from way back when?!).
So, what makes Twitter different to any of the many other platforms we see? The platform's success lies in the brevity of its content; no other platform produces real-time content and conversation as efficiently as Twitter.
It's an example of a 'microblogging' site, where people share snappy pieces of content — from thoughts and quotes to GIFs and images — and on-the-pulse observations about trending news and updates.
The potential marketing reach of this platform is enormous. With an advertisable audience of 353 million people and 187 million daily users, you'd be daft to miss out on the opportunity to grow your business with Twitter.
However, Twitter is infamously difficult to master. Many businesses fall at the first hurdle when it comes to getting the tone right — and grasping what on earth all the features mean. Who's the target audience? How do you turn likes and retweets into leads? And what are you meant to post about in the first place?
Let's get into it…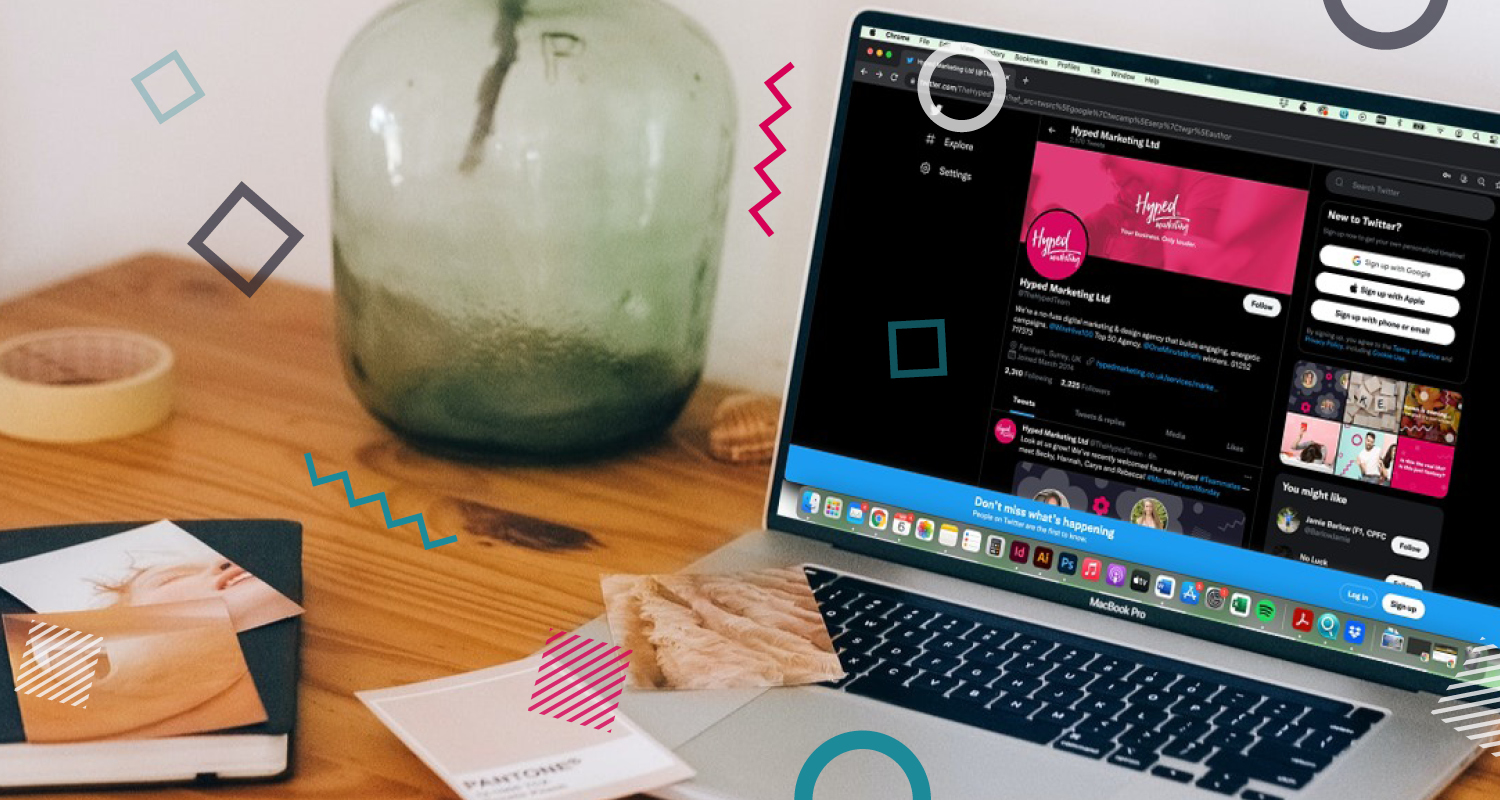 The features
As with all social media platforms these days, there is a sh*t tonne of features on Twitter. The three main ones to familiarise yourself with when getting to grips with the platform are: 'What's happening', 'Who to follow' and 'In case you missed it'.
'What's happening' is the first thing you'll see whenever you go to post. It's a simple but memorable phrase that pretty much sums up the premise of tweeting in the first place — to let the world know what's going on in yours.
So, you've set up an account. What's the first thing you do next? Follow all your friends and favourite celebrities, of course! But when it comes to Twitter for your business, you need to make sure you're filling your feed with the most relevant news from industry leaders — not just everyone's favourite @dog_feelings (although we totally get it). That's where 'Who to follow' comes in handy.
This feature gives you follow suggestions based on your activity, helping direct you towards your ideal audience. It only pops up when you're browsing on twitter.com — which we would recommend, by the way. If you're only using Twitter on your mobile, you'll be missing out on other fun features like 'Moments' — the feature which allows you to put together a collection of notable tweets, commentaries or events which are relevant to your brand.
'In case you missed it' pops up as you're scrolling your feed and shows you some of the recent trending tweets Twitter thinks you might like. This is a prime example of how the Twitter algorithm works; the more interaction you get, the more Twitter boosts your content, making more people interact with it. That's the beauty of this platform — the opportunities to increase your brand's visibility are endless. With the right material, of course…
Topics
The top topics on Twitter are a pretty accurate representation of the current affairs and social commentary going on in the world at any given time. Twitter separates the website's search section into 'For you', 'Trending', 'News', 'Sports' and 'Entertainment' — plus big topics like COVID-19 and #Tokyo2020 — to show you a collection of the most popular tweets and accounts under that subject.
Here, you can search through some of the most relevant hashtags for your industry or brand and even follow the topics of interest to your business and audience. When you follow a particular topic (like 'London food' if you're a London-based restaurant), Twitter will show relevant tweets from people you may not follow in your home feed. Following topics will help you stay up to date with the latest news and share and participate in conversations that will keep you in the loop.
Top tip: Twitter is in the process of rolling out an audio feature called 'Twitter Spaces', which will allow users to host and participate in live discussions — an excellent opportunity for businesses to connect with their audience to answer FAQs and start a buzz around a topic. Keep an eye out for this update!
Lists 
Lists have got to be one of our favourite updates from Twitter to date. There are more than 350,000 tweets posted every minute — that's a LOT of activity to compete with. Lists are a great way of organising your feed by topic and making it easier for your followers to find out what your business is about.
Firstly, you can create private lists to help your business keep track of the competition without following them! Lists can help a business stay on top of what's going on in an industry, creating a customised feed that ensures you nothing gets lost in the jumble.
You can also generate public lists to bring together activity from sub-accounts, such as a retailer with multiple brands under its banner. Or, use this feature to recognise the followers advocating for your business and create a buzz around an upcoming launch or exciting project.
Top tip: people can see when you've added them to a public account, so keep that in mind. However, keeping tabs on the lists your business is added to can be a great insight into who's interested in your industry and brand!
Pinned tweets
Over time, a business is likely to send out hundreds — even thousands — of tweets into the Twitterverse. So, it's pretty likely that some of your audience will miss something along the way. Yikes. Plus, if a potential new customer comes across your account and has to dig through your tweets to find out what you do, they're probably not going to stick around for long. Double yikes.
Pinned tweets are shown at the top of a profile. This feature allows you to select one particular post to demonstrate something about your brand. That's why it's so important to make sure you choose a pinned tweet that adds value or drives visitors towards action.
For example, you could pin a tweet that includes a niche hashtag or URL to a landing page on your website to increase sales, or you could choose a video that promotes a new launch or upcoming event.
And remember — pinned tweets aren't the only thing that will make an account stand out. Consistent branding, a refined header and profile image, a clear call to action (CTA), a short description of what you do and a website link in your bio are essential to draw in more people.
Top tip: pin a tweet that already has good engagement. Twitter users are more likely to interact with content already popular with other users because it adds more legitimacy to your brand.
The content
Since COVID-19 changed the way we use the internet, we're now online more than ever before. Lockdown brought about a sharp increase in the number of 'monetisable' Twitter users as people flocked to the platform to discuss current events. In fact, 59% of users regularly turn to Twitter as a source of recent news.
So, how can your business get involved and make the most of increased traffic? As always, content is king. It's far easier to plan out your content in advance when you're tweeting several times a day and following a strategy. You can schedule tweets within the platform or use scheduling tools such as TweetDeck or Hootsuite to organise and manage your Twitter activities and accounts from one dashboard.
Here are some of the different types of content to try…
Standard post
The simplicity of a tweet hasn't changed; you have 280 characters to make your point, but it's always best to be concise where you can. However, there are more things you can do to help your tweet get noticed these days. What you decide to Tweet about is totally up to you and will be dependent on your industry.
For example, you might want to prove your position as an industry expert by keeping your followers updated on current news and engaging with other related accounts. Alternatively, you might want to share a link to a blog or webpage as Twitter allows users to click straight through from the app.
It's also worth considering who your audience is. Twitter's largest audience is between 25 and 34 years old, and a whopping 70% of Twitter's audience is male. So, for all the brands out there looking for a way to market towards this demographic, Twitter could be the jackpot.
Top tip: you don't need to keep thinking of fresh ideas for every post. Instead, repost content from other channels! Share different sections of old blogs and post your customer reviews. Repurposing content will make your life easier, make the most out of your content and drive traffic to your other platforms.
Visual content
People are three times more likely to engage with Tweets that include visual content. And the good news for content creators is there was a 62% increase in video views between 2019 and 2020.
The not so good news is that with over two billion video views on the platform every day, you've got to make sure yours stands out. Yikes.
Posting bright and bold images with clear logos and thoughtful design will help your brand stick in the minds of your audience. For retail or food businesses with a highly visual brand, this is an excellent way of showcasing what you have to offer. You could even tune into the funny side of Twitter by using the latest GIFs and memes — we're sure you all remember the Marks and Spencer vs Aldi cake feud?!
Top tip: keep videos short where possible. Scrollers have a notoriously short attention span, so long-form videos are more likely to get skipped. Twitter suggests somewhere between six and 15 seconds is the sweet spot.
Polls
Wondering how to engage with your audience? Everyone loves a poll!
Two-way conversations are essential for growth and visibility on Twitter. Polls are a great way of increasing engagement and connecting with your audience to ask questions, show a bit of personality and even conduct a bit of market research while you're at it.
Engaging with an audience might involve asking followers what their favourite product is from a new range or getting them to decide between different options. For example, a business could get its customers involved in decision-making processes or ask them to predict an upcoming release.
You can create a poll by going to compose a tweet and selecting the graph icon. You can then add your question and different answer options of up to 25 characters each, and you can adjust the time it will stay active from a minimum of five minutes to a maximum of one week.
Top tip: increase your reach by promoting tweets within the Twitter app! It's easy to do and allows you to select posts to advertise to targeted audiences at a budget of your choice — a great way of attracting attention towards ongoing sales or introductory deals and encourage new visitors to your site.
Threads
Twitter threads are a great way of adding context and value to a tweet by showing an account's response underneath the original in a chain.
Brands can use threads for various purposes, such as extending character counts to add further information to a point or showcasing different products from a collection. Business accounts could use this feature to live-tweet an event or add detail to a previous post. Plus, threads allow users to gain further insight into the conversations under competitors' posts to assess what's relevant and topical.
Top tip: toggle between the 'Top Tweet' and 'Latest Tweets' to ensure you don't miss out on useful content. The former shows a selection of tweets that Twitter predicts will be of most interest to you based on your engagement, whereas the latter displays tweets in order of publishing.
Appealing to the algorithm
The Twitter algorithm works differently from other sites due to the lightning speed that user feeds are updated with new content. So, even if your content is the dog's bollocks, no one will see it unless you're active on the platform.
We recommend posting at least three times a week and engaging with other channels as much as possible. For example, this could mean retweeting (or reposting), quote retweeting (reposting with a comment), 'liking' posts, tagging accounts or otherwise sharing content from other relevant channels.
However, it's important to remember that people aren't often looking to have something sold to them, so try not to be too promotional with your content on Twitter. Otherwise, you risk giving potential customers 'the ick' by bombarding them with a series of #ads instead of cleverly constructed copy with clear calls to action (CTA) woven in.
Boosting engagement
As always, consistency is vital when it comes to boosting your engagement on Twitter. The more you engage with a topic, the more likely it is that Twitter's algorithm will identify your tweets as attractive to other accounts within your industry and display them in the home feeds of potential customers.
And we can't forget hashtags — the ultimate way of grouping together tweets and keywords into subjects. You can explore, research and track the top hashtags from your industry by using Twitter's native search bar or an online tool like Hashtagify to compare how each hashtag performs.
Hashtags are a crucial part of a business' Twitter strategy, allowing brands to stay involved with trending conversations and increase visibility. But don't overdo it — Twitter suggests one or two carefully selected ones per post is plenty.
Things can get technical pretty quick when it comes to navigating Twitter best practices and ever-evolving features. So, why not leave it to the experts to come up with fresh content — and a social media marketing strategy to get it out there? (Just to clarify — by experts, we mean us. Duh.)